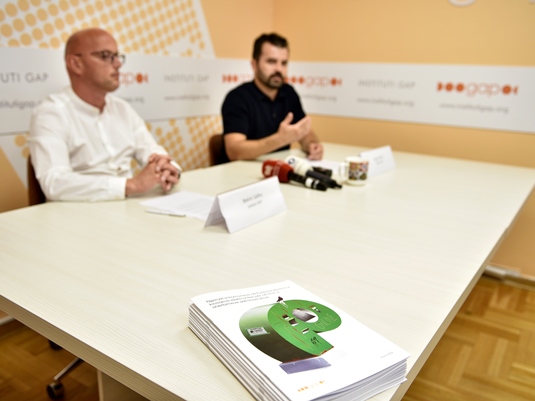 GAP Institute presented findings of the report titled "The failure of municipalities to provide administrative services through electronic kiosks".
Agron Demi presented findings of the report on public administration reform, with special emphasis on the stalemate in providing digital administrative services. He said that in this governing mandate, similar to the previous mandates, administration reform and digitalization of services were not considered priority. On the contrary, the public administration continues to be politicized, professionally degraded, spending ever more tax-payer budget and not facilitating provision of services to citizens.
Even though tens of strategic documents and action plans were adopted since the declaration of independence, many activities and objectives envisaged therein remain nothing more than ink on paper. Each year around 10 million euro is spent on information technology systems and equipment. However, none of the installed electronic systems is entirely functional.
In order to obtain any service, citizens are forced to submit numerous documents, which are already owned and issued by other public institutions. Hence, every year over two million documents are issued from the civil registry, the main purpose of which is to be resubmitted back to another institution in order to obtain a given service. This places a large burden on administration, and forces citizens to visit numerous institutions only to obtain one service.
Further, Bekim Salihu presented the findings of the report on municipal level. According to him, municipalities are very dependent on the central level in terms of rationalization and digitalization of administrative services. However, municipalities have taken some own initiative to facilitate the provision of administrative services, by installing electronic kiosks for the issuance of personal documents.
Of 38 municipalities, 19 have installed such kiosks. However, research in the field reveals that of 42 kiosks installed in municipalities more than half are not functional. The most common reasons for their malfunctioning are frequent internet interruptions, their placement in open areas, unprotected from atmospheric precipitation and conditions, lack of care and irregular supply with expendable materials. These obstacles, as well as citizens' hesitation to utilize them, have made electronic kiosks fail in attaining their desired intent.
The full report can be found HERE.