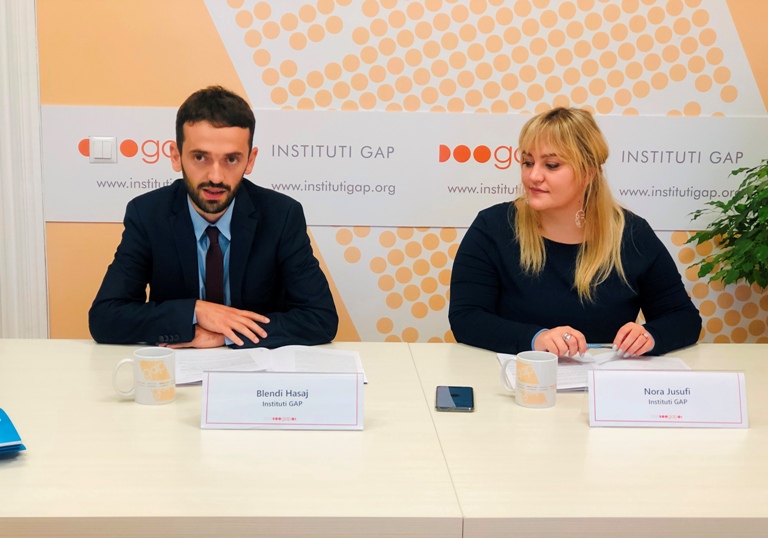 Today, GAP Institute organized a press conference to reveal the publication of the "2018 municipal transparency budget index" report. This report presents an assessment of municipal budget transparency in Kosovo, ranking municipalities by performance.
Blendi Hasaj, Researcher at GAP Institute, said that the municipal budget transparency index comprises an assessment and ranking of municipalities based on the number of published documents, budget hearings held with citizens and response to GAP Institute requests on access to budget documents. According to him, findings of the report show that municipal budget transparency in 2018 is at a level higher than previous years, with the average number of points by municipality being 52 and 71% of the municipalities collecting at least half of the points of the index. The municipality showing the highest level of budget transparency is Gjakova, collecting 97 of 100 points and having published all budget documents and held at least four budget hearings with citizens. Also, according to Hasaj, based on the GAP Institute index, greater budget transparency in 2018 was shown by municipalities of Kamenica, Gjilan, Shtime, Lipjan and Prishtina. Municipalities of Zubin Potok, Partesh, Leposaviq and Zvecan received zero points in the index having published no documents and having responded to no GAP Institute requests on access to official budget documents.
Nora Jusufi, Researcher at GAP Institute explained the methodology and findings of the GAP Institute index on municipal budget transparency. She explained that a given municipality may attain maximum points only if it publishes all budget documents relating to the 2018 budget in a computer-readable format. Despite the legal obligations to publish some of the budget documents assessed in the index, not all municipalities have done this in 2018. Concretely, only 60% of the municipalities have published all documents deriving from the MLGA Administrative Instruction on municipal transparency, Jusufi added.
The municipal transparency index contains both the assessment and concrete recommendations on how to improve budget transparency in each municipality.
To read the full report please click here.