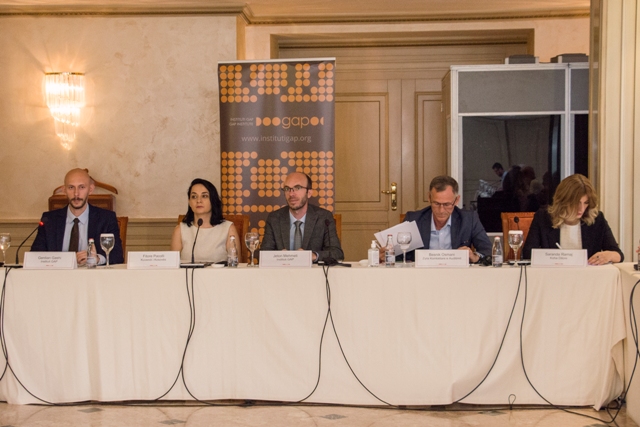 Today, GAP Institute organized a round-table discussion on "Theimpact of subsidies and grants on agricultural production".
In his introductory remarks, JetonMehmeti, Director of Research at the GAP Institute, said that the purpose of this report was to analyze agricultural development policies, as agriculture plays an important role in improving the trade balance, increasing employment and economic development. However, despite the financial support schemes of the Government of Kosovo, the data showed that the expected results had not been achieved.
Gentian Gashi, Researcher at the GAP Institute, presented the findings of the report, stating that between 2015 and 2019, about 134.7 million Euros were distributed in direct payments (subsidies) and 104.5 million Euros in grants by the Ministry of Agriculture, Forestry and Rural Development (MAFRD) for agricultural products. In most crops, productivity, planted areas and yields in 2019 do not seem to have changed much, compared to the period before the introduction of such support policies. In cases where an increase in productivity or yield was recorded, such an increase was much lower than the increase in direct payments over the years. The lack of progress in expected outcomes, despite high financial support, calls into question the effectiveness of agricultural policies, or their manner of delivery.
FitorePacolli, Chairwoman of the Parliamentary Committee on Agriculture, Forestry, Rural Development, Environment, Spatial Planning and Infrastructure in the Assembly of Kosovo, stressed that so far, agriculture had not been treated as a sector for food protection, and hence a number of existing laws were being revised. The Committee is permanently engaged with the Ministry in developing new strategies, which would allow for accreditation, so that European Union funds may be absorbed as well.
BesnikOsmani, Auditor General at the National Audit Office (NAO) said that despite high budget investments, the impact remains insufficient. Inadequate policies, improper management of funds, minimum coordination between the central level and other relevant bodies, and also municipalities, were highlighted as problems. He added that there was also a lack of an adequate system for measuring outputs and monitoring the enforcement of contracts, and that the goal should not be to reduce funding for the agricultural sector, but to improve the process of awarding such funds.
Saranda Rama, Journalist at KohaDitore, expressed her concern that the damage could be even higher, given the recent corruption cases in the administration of the Ministry of Agriculture, where existing reports list unrealistic numbers. She also stressed that the budget from the Ministry had been continuously increased for the agricultural sector, which was not the case in terms of their oversight.
Other participants from municipalities and various agricultural associations also contributed to this discussion.
The report on Grants can be found by clicking here whereas the report on Subsidies here.