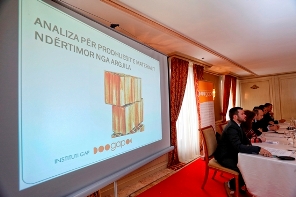 The Kosovo Government has amended Administrative Instruction No. 05/2015 on Goods exempt from customs tax, reducing customs duties by 10% for certain goods, such as non-calcined petroleum coke, calcined petroleum coke, fuel oils and lubricants.
The customs tax exemption for such goods will help local producers. The removal of the tax on coke petroleum was one of the requests made by GAP in the report published in May this year concerning the producers of clay-based construction materials. The GAP report recommends:
"The Government of Kosovo should undertake an assessment of the costs and benefits associated with the removal of import tax for petroleum coke for manufacturers of construction material. The tax exemption for this commodity would improve competitiveness in this sector."
Besides customs tax on petroleum coke, local construction material manufacturers also face problems of other types, such as the high price of electricity for businesses, bureaucratic procedures on the use of clay, etc.
The full GAP report on the state of clay-based construction material manufacturers , can be read HERE.