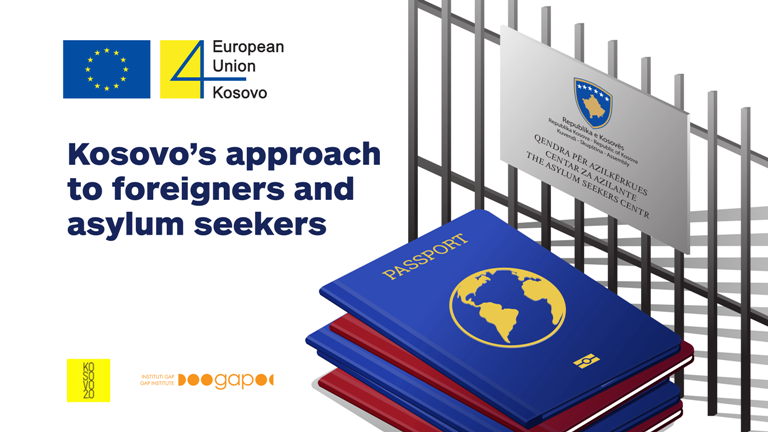 This research was conducted by Jon Bytyqi within the framework of a mentoring project supported by the European Union and implemented by Kosovo 2.0 and the GAP Institute.
Introduction
In recent years, European Union countries have been flooded with a wave of migrants who come mainly from countries with major socio-economic crises or those with open conflicts. Such a trend is observed in Kosovo as well. While a large number of Kosovo citizens migrate to more developed countries in search of a better life, foreign nationals aspire to get to Kosovo for the same reasons.
Since 2015 in Kosovo, applications for asylum, family reunification, residence permits (mainly related to residents of other countries that are employed in Kosovo), studies and other reasons have marked a gradual increase. This trend has affected the increase of migration in our country, which during 2019 reached the highest point.
The increase in the number of asylum seekers in Kosovo has also presented a number of challenges for state institutions, starting with the Kosovo Police, Asylum and Migration Centers, and other institutions with responsibility to manage the flow of immigrants in accordance with legal acts.
Kosovo is one of the countries that have drafted the legal framework for asylum seekers in accordance with the EU acquis as part of the EU integration process and based on the requirements of the EU visa liberalization process. The field of migration in Kosovo is regulated based on the applicable legislation on migration, of which the three following laws are most relevant: the Law on Foreigners, the Law on Asylum and the Law on Citizenship of Kosovo.
According to Law No. 06/L-026 on asylum, the term asylum means protection that Kosovo offers to refugees. This status includes the right to reside in the Republic of Kosovo as well as other rights guaranteed under this law. Whereas "asylum seeker" is a foreign person who has submitted an application for asylum or supplementary protection. They are considered as such from the moment of submitting the asylum application until the final decision is made. "Asylee" is a foreigner who has been granted asylum status in the Republic of Kosovo. Whereas, acording to Law No.04/L-219 on foreigners, foreigners are considered all individuals who are not citizens of the Republic of Kosovo, but who come to Kosovo for reasons such as tourism and entertainment, employment and business, schooling in Kosovo institutions or family reunification. Whereas theLaw on Citizenship of Kosovodetermines the manner in which citizenship of the Republic of Kosovo is acquired, lost or reacquired.
Asylum application procedures in Kosovo are adapted to the standards of countries that are part of the European Union where these procedures are regulated by law same as in Kosovo. Asylum applications from foreigners can be made verbally or in writing during the control at the border crossing point, at any police station but also directly at the offices of the Department of Citizenship, Asylum and Migration (DCAM). For asylum seekers and homeless people, Kosovo offers collective accommodation at the Asylum Center.
Taking into account the increase in the number of asylum seekers in Kosovo and the need for more dignified treatment in accordance with state laws, this report analyzes the number and reasons for asylum applications, legal regulation and treatment of asylum seekers during their stay in Kosovo. The research relies on data from institutions such as DCAM (Department of Citizenship, Asylum and Migration) within the Ministry of Internal Affairs (MIA).
The trend of foreigners and asylum seekers in Kosovo
From 2015 to September 2020, the total number of foreigners who applied for a residence permit in Kosovo and received a positive reply was 23,783. Of the total number of applications, 12,587 were employment applications, 9,056 family reunification applications, 1,182 study applications and 958 other reasons.

Table 1: Number of applicants and reasons for applying for a residence permit in Kosovo.
| | | | | | | | |
| --- | --- | --- | --- | --- | --- | --- | --- |
| Reason/year | 2015 | 2016 | 2017 | 2018 | 2019 | 2020 (January - September) | Total |
| Family reunion | 1,435 | 1,807 | 1,924 | 1,680 | 1,855 | 871 | 9,572 |
| Employment | 1,565 | 2,296 | 2,865 | 2,899 | 2,533 | 1,076 | 13,234 |
| Study | 187 | 227 | 281 | 210 | 229 | 131 | 1,265 |
| Other | 257 | 264 | 213 | 136 | 55 | 65 | 990 |
| Total | 3,444 | 4,594 | 5,283 | 4,925 | 4,672 | 2,143 | 25,061 |
Source: Department of Citizenship, Asylum and Migration
In general, the reasons for seeking a residence permit in Kosovo in the last five years range from employment 52.8%, family reunification 38%, studies 5%, and other reasons 4%. The data indicate that the period from 2015 to 2017 marked the highest growth in the last five years with 53.4%. In this increase, the employment category had the largest impact with over 83% growth. Applications have continued until 2020 but with a more stable trend.
According to the data, in the period January-September 2020 we had a total of 2,143 applications for residence permit in the Republic of Kosovo. If such a trend continued during the last three months, then in 2020 we can expect a decrease in applications for residence permits in Kosovo compared to 2019. This decline may also be related to movement restrictions undertaken by multiple countries as measures to prevent the spread of the COVID-19 pandemic.
Application for a residence permit for employment has increased steadily except in 2020. One of the reasons whynumber of requests for employment permit in Kosovo has been a rising trend may have to do with the growing presence oflarge foreign companies that operate in Kosovo such as Bechtel Enka, Limak, KESCOetc.
Another reason for residence permitin Kosovo is family reunification. Requests for family reunification were almost the same all the time, which is also expected to be in decline in 2020. Meanwhile the requests for study in Kosovo have marked an increase until 2017 and had constant decreasein the following years. There was similar occurrence in the case with other categories which include requests such as tourist visits, scientific studies etc. Even in this sphere it was expected that Kosovo would have less requests of such nature during 2020 due to the pandemics, which if shown in percentages indicates that there was a decrease.
On the other hand, the asylum requests in Kosovo have been increasingconstantlyin recent years. In2015 the total number of asylum seekers in Kosovo was 70 and in2019 it reached2.081. Their origin was mainly from Syria with over 41%. According to the data, 1,753 Syrians have sought asylum in the last six years in Kosovo. Further to this the rising trend is Iraq, with 706 requests, with relatively lower number of requests coming from nationals of Afganistan 389, Morocco 293, Palestine 263, Algeria 252 and otherpresented in Table 2.

Table 2: Origin, number and trend change of asylum seekers in Kosovo over the years.
| | | | | | | | |
| --- | --- | --- | --- | --- | --- | --- | --- |
| Origin/year | 2015 | 2016 | 2017 | 2018 | 2019 | 2020 (January - September) | Total |
| Syria | 58 | 55 | 26 | 237 | 911 | 466 | 1753 |
| Afghanistan | 0 | 228 | 44 | 7 | 53 | 57 | 389 |
| Palestine | 2 | 3 | 2 | 79 | 89 | 88 | 263 |
| Algeria | 1 | 0 | 14 | 41 | 120 | 76 | 252 |
| Turkey | 0 | 0 | 7 | 75 | 47 | 0 | 129 |
| Iraq | 6 | 3 | 3 | 31 | 559 | 104 | 706 |
| Libya | 0 | 3 | 22 | 31 | 48 | 0 | 104 |
| Pakistan | 0 | 0 | 11 | 19 | 12 | 0 | 42 |
| Iran | 1 | 9 | 4 | 20 | 9 | 10 | 53 |
| Morocco | 1 | 2 | 0 | 36 | 152 | 102 | 293 |
| Other | 1 | 4 | 14 | 19 | 81 | 139 | 258 |
| Total | 70 | 307 | 147 | 595 | 2081 | 1081 | 4242 |
Source: Department of Citizenship, Asylum and Migration.
The above data indicate that Kosovo is frequented and viewed as an asylum country mainly by citizens of countries in the Middle East. It can be seen that asylum seekers originating from Syria lead the list of asylum seekers in Kosovo, with special emphasis on the last two years where there is a drastic increase. Compared to 2018, in 2019 the number of asylum applications from this country has almost tripled, and in 2020 there might have been the same number of applications, always based on the growing trend of the number that was at least until September.
According to international laws and agreements, Kosovo has an obligation to provide dignified treatment of asylum seekers. Specifically, theLaw on Asylumrequires the state to guarantee the following basic rights for applicants (asylum seekers): the right to stay in Kosovo, the right to basic living conditions, the right to healthcare, the right to basic social assistance, the right to free of charge legal aid, freedom of thought and religion, the right to education for children as well as the right to work and vocational training.
Moreover, asylum seekers in Kosovo are entitled to a social assistance worth 50 euros per month per individual, 75 euros per family and in case of a large number of family members it goes up to 125 Euros. The Asylum Center near Lipjan offers accommodation services, clothing, hygiene kits, food, legal services, psycho-social services, computer and Albanian language courses.
Conclusions
The number of foreign nationals in Kosovo has increased in the last five years in all categories such as employment, family reunification and study as well as asylum. In 2020 there was a decrease in the number of applications in all categories. This may be related to movement restrictions due to health care situation related to Covid-19 virus.
Unlike immigration for employment and family reunification purposes which have had a slight increase in the period from 2016 to 2019, the number of asylum applications in the same period has marked a high increase which quadrupled in some cases.
The origin of asylum seekers is mainly from Syria and Iraq, countries which are facing difficult socio-economic situation or open civil conflicts. Regardless of whether these persons decide to stay in Kosovo for long periods of time or use Kosovo as a transit country, their arrival on such a large scale may pose a challenge to state institutions which have an obligation to accommodate them according to legal obligations.
Center for Asylum near Lipljan offers some basic services of accommodating a part of asylum seekers in Kosovo. However, with the increase of numbers in the coming years, this center can be overpopulated beyond its capacity. This can endanger compliance with legal and human obligations towards asylum seekers in Kosovo.
This report has been published within the first cycle of the Mentorship Program which aims to enhance research and writing skills for young researchers and journalists through the mentoring by senior researchers and journalists at GAP Institute and Kosovo 2.0.
The report has been published with the assistance of the European Union. The contents of this publication are the sole responsibility of GAP Institute and Kosovo 2.0, and do not represent the views of the European Union.The EU funded project "Innovation for resilient media and citizen engagement" is implemented by: Kosovo 2.0 and GAP Institute.
The report is also available in Serbian language, please write at info@institutigap.org.
Jon Bytyqi was part of various volunteer youth groups during his primary and secondary education, in Gjakova. Currently, he studies political science at the University of Prishtina where he works with student representation groups.