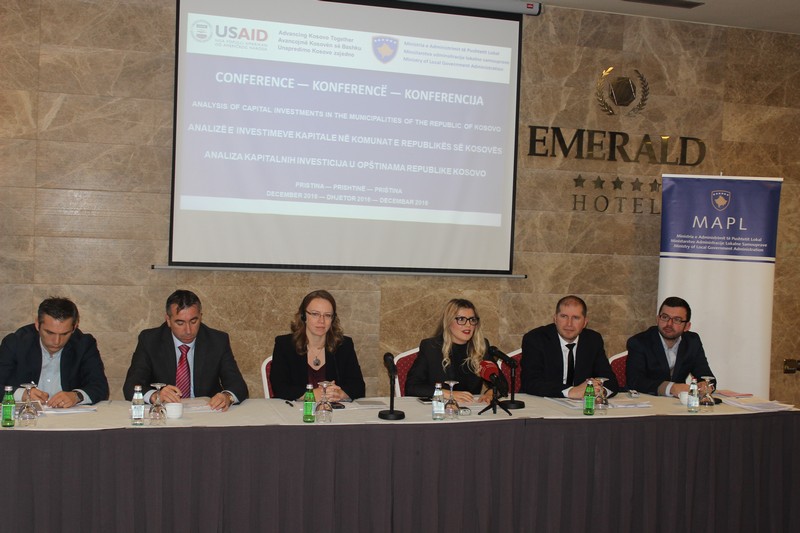 With the invitation of the Ministry of Local Government (MLG), Gap Institute participated in the panel discussion regarding the findings of the analyses entitled "Analyses of capital investments in municipalities of Kosovo". Participants in this discussion were representatives from the Association of Kosovo Municipalities, USAID project "Advancing Kosovo together" and Ministry of Finance.
The investment trends in municipalities for a period of five years and the capital investments implemented by local and central level were one of the main issues that were presented during this discussion. These investments are about 158 million euro for three years, or 44% of planned capital investments by municipalities.
GAP Institute has raised concerns about the lack of transparency regarding the criteria of orientation of capital investments implemented by central level to municipalities. The lack of transparency and proper planning of capital investment orientation has resulted with the lack of effectiveness of some capital projects. Also, lack of transparency leaves space for orientation of capital investments, from central level to the local one, based on political parties preferences.
Taking into consideration these factors, it is necessary to reconsider the current model of capital investments allocation from central level to municipalities. One option would be to increase the public involvement in the planning stages of the budget of ministries, particularly municipalities. Also the link between the budget and development strategies should become clearer.
The same concerns were raised also by the Association of Kosovo Municipalities, while the MLG promised the inclusion of these recommendations in the analyses.