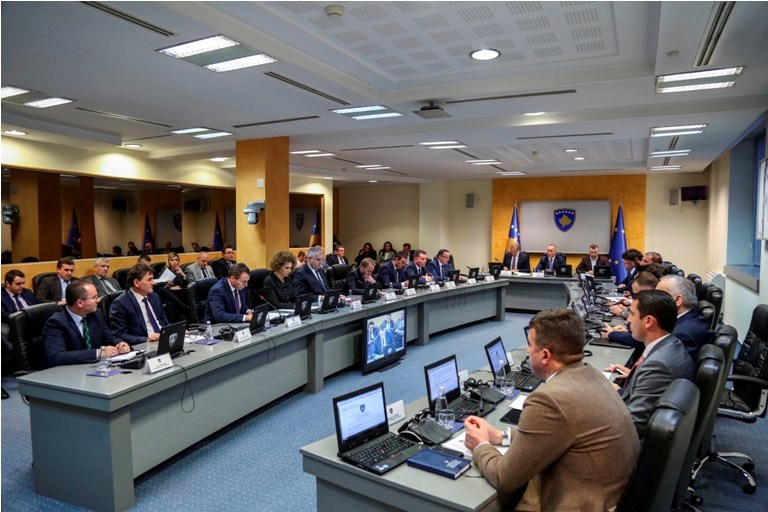 Continuing the practice of violating laws, the Haradinaj Government again has taken a non-legal decision on the appointment of the Secretary General at the Ministry of Trade and Industry (MTI) at its meeting of 29 January 2018.
With the decision 11/26, the government appointed Burim Rrecaj as secretary general of MTI, although he did not meet the criteria for this senior position in the civil service. Candidates for this position have been evaluated by a committee led by a British company, in line with the signed memorandum of the Government of Kosovo with the British Embassy in Pristina (a memorandum recently signed between the British ambassador and Prime Minister Haradinaj on October 11, 2017).
Based on the evaluation of the British company and the evaluation committee, the only candidate who fulfilled the criteria for appointment as secretary general was Gentiana Islamaj, who by the end of January 2018 was acting as general secretary of the MTI. Burim Rrecaj, who was elected by the government as secretary general, was ranked as number four. Yet, his name was included in the list of top three candidates that the Ministry of Public Administration (MPA )sent to the government.
Pursuant to Article 15, paragraph 3, of the Law on Civil Service, MPA sends to the government the selection of one of the three best candidates on the basis of the evaluations of the commission. It would be logical for the government to select a candidate who has received the highest number of points and not to select the candidate who did not meet the criteria for that position.
Moreover, Burim Rrecaj was part of the Election List of the Nisma party for a member of the Pristina Municipal Assembly.
With this decision, the Kosovo Government has violated the Law on Civil Service, politicized one of the highest positions in the civil service, sacrificed professionalism and violated the rights to employment, and violated a memorandum of understanding with the British Embassy for recruitment of professionals in senior state positions. Cases like these send a bad signal to all those professionals who want to contribute to the public sector.
With this letter, we call on the government to cancel decision 11/26 on the appointment of the Secretary-General of MTI, and at the same time seek the intervention of the Independent Oversight Board of the Kosovo Civil Service.
Signatories:
Group for Legal and Political Studies
INDEP
GAP Institute
Kosovo Law Institute
Democracy Plus (D+)
Cohu
INPO
KDI
Columbus
Institute D4D