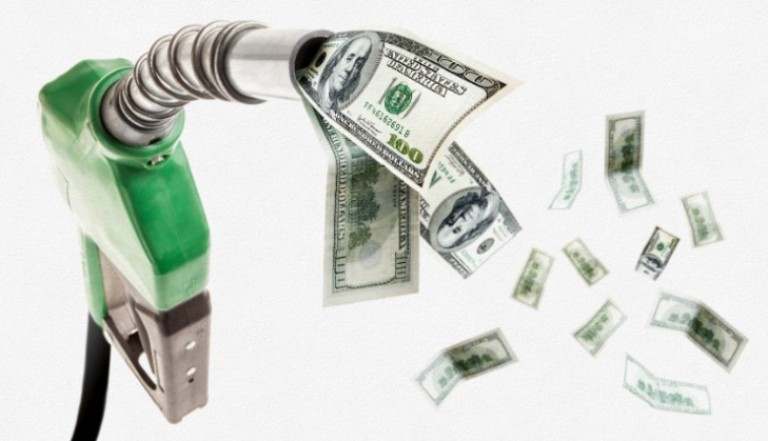 In January 2008, an Administrative Instruction no. 03/2008 was enacted setting forth the rules and procedures for an rational and efficient utilization of official vehicles of the Government of Kosovo by public servants. The AI lists the categories of officials entitled to utilize such official vehicles.
Pursuant to Article 3 of the Instruction, the Prime Minister, deputy prime ministers, ministers, deputy ministers, OPM Secretary-General, and OPM Chief of Staff, are entitled to utilize state-owned vehicles 24/7, for official purposes. In the meantime, certain officials may be allowed to utilize official vehicles beyond working hours, upon a decision of the Minister, based on the Secratry-General proposal, Chief Executive Officer or the most senior officer of budget organizations of relevant institution.
To monitor compliance with the Instruction, a Vehicle Use Monitoring Unit was established within the Ministry of Public Administration. This Unit establishes and maintains an official vehicle utilization registry for all institutions, keeps records on fuel costs, repairs and mileage for each vehicle.
What were the vehicle fuel costs incurred by public officials during 2017?
According to Ministry of Finance 2017 Annual Financial Report during 2017, a total of 8.7 million Euros were spent from the Kosovo Budget for fuel costs. Compared to 2016, fuel spending has increased for 21%, or 1.8 million Euros. This sub-category includes 4% of expenditure from the category of goods and services.

Source: Graph compiled by GAP Institute. Data processed from 2017 Financial Report of the Ministry of Finance.
Pursuant to the Law on Access to Public Documents, GAP Institute requested detailed vehicle fuel expense records, for the year of 2017, from the Office of Prime Minister (OPM) and Ministries.
Although such data are legally required to be published in the Official Gazette of Kosovo, and the website of the Ministry, again 6 ministries have declined to answer completely to our request: Ministry of the Kosovo Security Force, Ministry of Foreign Affairs, Ministry of Trade and Industry, Ministry of Agriculture, Forestry and Rural Development, Ministry of Public Administration, and the Ministry of Education, Science and Technology. The Ministry of Justice publishes its expenditures on weekly basis on its official website, including vehicle fuel costs, however such data are not easily accessible and legible for the purposes of our research. Therefore, the Law on Access to Public Documents continues to be defied.
The same number of answers was received this year as well compared to the last year. The Office of Prime Minister and 12 ministries replied. The Ministry of Internal Affairs provided classified and personalized expenditures, and some were categorized by position. The Ministry of Culture, Youth and Sports offered some disaggregated costs, while some records are provided by vehicle plates. The Ministry of Communities and Returns offered all records disaggregated by vehicle plates. Meanwhile, the Office of Prime Minister, Ministry of European Integration, Ministry of Labor and Social Welfare, Ministry of Infrastructure, and the Ministry of Diaspora and Strategic Investments provided only generic records.
From the data collected, it derives that within 2017, the Office of Prime Minister and offices of 12 Ministries spent 261,736 euros for vehicle fuel. Most expenses have been made by the Cabinet of the Ministry of Culture, Youth and Sports, amounting to 60 thousand euros. After it, the OPM comes next, with 14 thousand Euros less.
Figure 2: Vehicle Fuel Expense, by ministry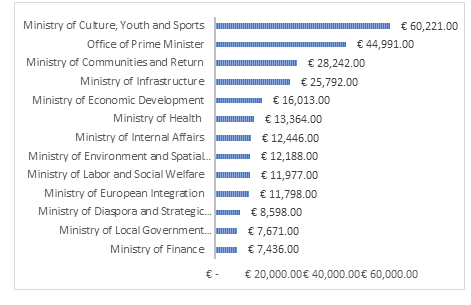 Source: Graph compiled by GAP Institute. Data received from relevant institutions.
For 2017, most fuel expenses were incurred by the Minister of Economic Development, Blerand Stavileci. Next in line is the Minister of Internal Affairs, Skender Hyseni, Minister of Environment and Spatial Planning, Ferat Shala and the Minister of Health, Imet Rrahmani.
Figure 3: Vehicle Fuel Expense, by ministers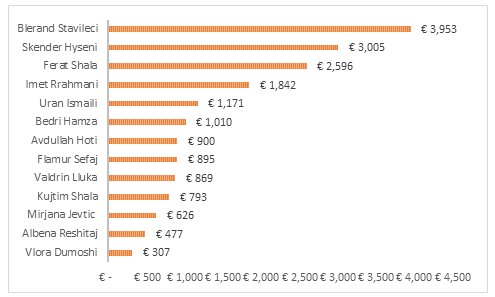 Figure 4: Vehicle Fuel Expense, by months, 2017

On this link: https://bit.ly/2A23Odh, an infograph can be found containing fuel expenses for the OPM and 12 ministries in 2017, and people responsible for all expenses.