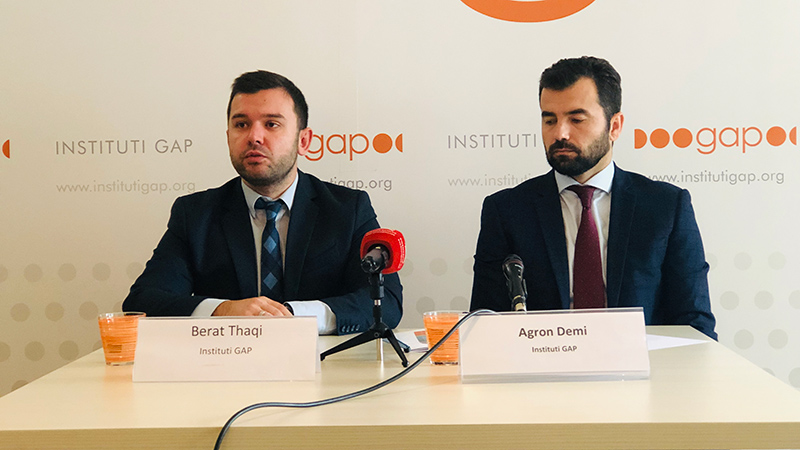 Today, GAP Institute held a press conference where it presented the report entitled "2019 Draft Budget - An analysis of income and expenses." The main findings of the budget analysis were presented by Agron Demi and Berat Thaqi.
Initially, the report argues that the 2019 draft budget represents largely a continuity of budgets from previous years. This is because similar to the past years, nearly half of the capital investments will be managed by the Ministry of Infrastructure (MI) and most of them will be invested in road infrastructure. Also, 82% of central level capital investments are a continuation of projects from the past years. The data on the allocation of capital investments by the Ministry of Infrastructure suggest that there is discrimination of the municipalities governed by certain political parties that are not included in the Government of Kosovo. The report also notes that budget financing from public debt and Kosovo Privatisation Agency fund has increased significantly, while current expenditures, especially subsidies and transfers, and goods and services, have increased more rapidly than capital investments.
As a positive development in the next years draft budget and in line with the European Commissions (EC) recommendations, it is an increase in the budget for healthcare and some institutions that deal with market functioning. However, the Kosovo budget allocated to healthcare sector is still low compared to relative expenditures in European Union (EU) countries. Also, the increase in the budget for the Employment Agency and the number of employees in the Labor Inspectorate are in line with the ECs suggestions for Kosovo. Expenditures in education have also increased significantly but still remain below the relative public expenses on education of EU countries. Also, for the first time, an additional grant for the capital has been allocated which will positively influence the increase of the budget capacities of the Municipality of Prishtina to address the problems of all residents who live or use services in the capital.
On the other hand, in the absence of a new law on Radio Television of Kosovo (RTK), this institution remained under the Kosovo budget for 2019. In addition to subsidizing RTK, other categories of subsidies such as pensions and the compensations have increased considerably. In addition, despite all the controversy over the number of war veterans, the budget for this category has grown further. However, if there is no reduction in the number of veterans, the allocated budget for 2019 will be insufficient.
You can find the complete report by clicking here.