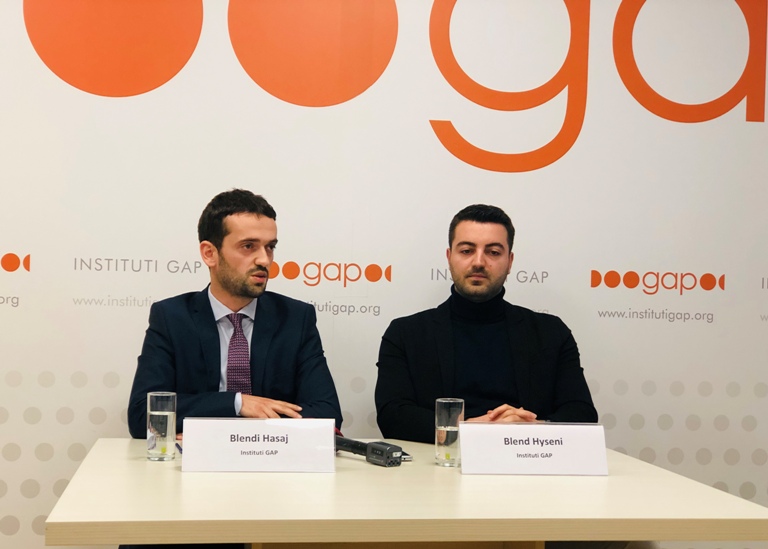 Today, GAP Institute organized a press conference on the publication of the "2017 Municipal Budget Transparency Index". This report presents an assessment of budget transparency of Kosovo municipalities ranking them based on the best performance.
Blendi Hasaj, GAP Institute Researcher, emphasized that the municipal budget transparency represents an assessment and ranking of municipalities based on the number of documents published, budgetary hearings conducted with citizens and responses to GAP Institute requests for access to budget documents. Findings of the report show that in comparison to 2016, the level of budget transparency has improved in 2017. Whereas in 2016 only 47% of the municipalities had collected over 50 points in the index, in 2017, 53% of municipalities passed that threshold. According to this index, the municipality with the highest level of transparency in 2017 was Shtime municipality, with 85.5 points. Three municipalities with no points in the index, namely municipalities that have published no budget documents and organized no budget hearings with citizens were Mamusha, Leposavic and Zvecan municipalities.
Blend Hyseni, GAP Institute Researcher, revealed the methodology and findings of the GAP Institute index on budgetary transparency of municipalities. He explained that a municipality can obtain the maximum number of points only if it published all budget documents related to the 2017 budget. Unlike the previous year, in 2017 the index included the municipal internal audit report, which received 10 points, whereas the number of points for budget hearings decreased to 2.5 each.
Of 38 municipalities assessed, only nine had published all documents bound by law, whereas none published all documents comprising the GAP Institute index. The Analytical Account Card and Internal Audit Report represent the two documents published least by municipalities.
The budget transparency index is published annually by GAP Institute and includes, in addition to the assessment, concrete recommendations on how to improve budget transparency in each municipality.
To read the full report please click Here.