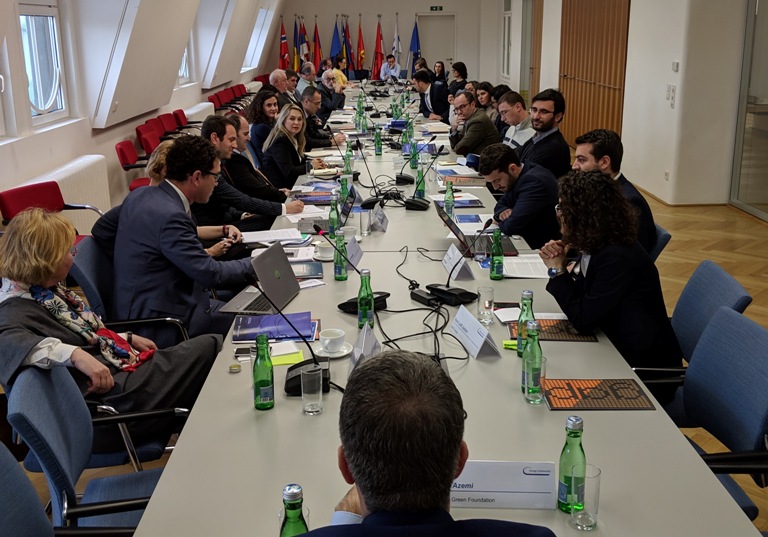 Vienna, 22 February 2019
Today, in Vienna, GAP Institute in cooperation with Vienna Institute for International Economic Studies (Wiener Institut für Internationale Wirtschaftsvergleiche -wiiw) presented the report "The effect of state aid on the electricity market in the Balkans". The report analyzes the problem of state aid in the electricity sector by taking as examples the cases of Kosovo, Bosnia, Serbia and some other countries of the European Union. The report was presented at the round table discussion which took place at the Energy Community Secretariat in Vienna.
At the opening of the discussion, Nora Latifi-Jashari, executive director of GAP Institute, and Elizabeth Hagen, executive director of wiiw, spoke about the cooperation between the two organizations that started in July of 2018 and joint efforts to intensify the cooperation between non-governmental organizations in Kosovo and organizations in other countries in Europe.
Blend Hyseni, researcher at GAP Institute, presented the report of GAP and wiiw which analyzes the state aid problem in new lignite based energy projects in countries such as Kosovo, Bosnia and Serbia; projects these that are not in line with EU directives on electricity market liberalization. Among others, Mr. Hyseni mentioned that the Energy Community Secretariat has limited legal power to stop the projects that amount to state aid and that state aid departments within contracting parties do not have full independence.
Dirk Buschle, deputy director of Energy Community Secretariat, spoke about the main pillars of their institution and current negotiations for reviewing the Energy Community Treaty with the aim to include principles that strengthen and increase the independence of the state aid departments in contracting parties.
While, Arben Kllokoqi, electricity expert at Energy Community Secretariat, spoke about the contracts to build the "Kosova e Re" power plant. He emphasized that parts of the contracts that state that NKEC guarantees price and purchase, assumes all the risks (credit, market risk, tax) and other costs traditionally associated with the generator (use of system, imbalances) amount to state aid and require a review by the state aid commission in Kosovo. According to him, the Secretariat's comments regarding the matter above have not been addressed by the governmental institutions in Kosovo yet.
Marie-Therese Richter, legal expert at Energy Community Secretariat, talked about the Energy Community Secretariat's legislation on state aid and that of contracting parties. Mrs. Richter also presented the cases of "Kolubara B" in Serbia and "Tusla 7" in Bosnia which consisted of credit guarantees by government and transfer of state property to the beneficiary (for the case of "Kolubara B" only).
While, Shkumbin Asllani, legal advisor to the Minister of Economic Development in Kosovo, stated that according to Kosovo's government evaluation the transaction to build the "Kosova e Re" power plant does not constitute state aid and is in line with the current legislation in Kosovo and the Energy Community Treaty.
Other representatives of media, academia and civil society participated in the discussion too.
To read the full report please click Here.