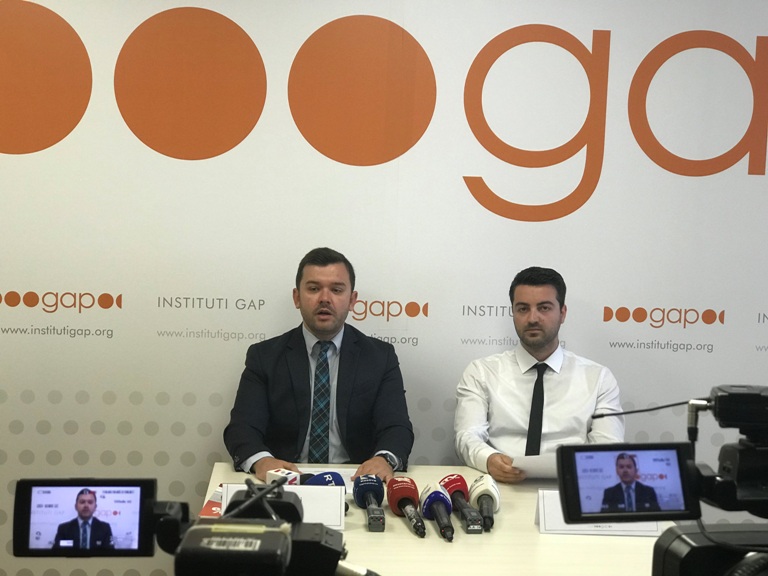 GAP Institute organized a press conference for the publication of the report "100% Tax: Is it helping or Hurting Kosovos Economy?" This report provides an assessment of the impact of the tax on domestic products, food prices, and trade with other countries.
The findings of the report indicate that within five months from the introduction of the 100% tax, imports from Serbia marked a decrease of 88% (160 million Euros), while imports from Bosnia and Herzegovina decreased by 83% (24 million). The biggest winners during this period were Slovenia, Israel and Turkey, which had a significant export growth in Kosovo.
Despite the decline in imports from Serbia and Bosnia, Kosovo's trade deficit has increased. The data do not show any accelerated growth in the processing industry in Kosovo, either in terms of volume of production or generation of new jobs. This means that local producers have failed to make use of the opportunities as it was intended.
On the other hand, the 100% tax appears to have contributed to the acceleration of consumer price increase in food, which is the main expense of the basket of Kosovo consumers. Among the reasons that may have contributed to the rise in food prices are: reduced competition in certain products, increased costs of raw materials for domestic businesses, and increased cost of transport therefore prices of imported products. In the absence of substitute products, some Kosovo products have had their prices increased after the introduction of the 100% tax. Taking this into account, should this tax remain for a longer period, it may have an impact in increasing poverty.
Considering that Kosovo and Serbia are both signatory parties to the Central European Free Trade Agreement (CEFTA) and are obliged to remove trade tariffs, and given that the commitment to implement CEFTA has also been included in the Stabilization Association Agreement signed between Kosovo and the European Union, GAP Institute recommends, as the best opportunity for Kosovo, the renegotiation of CEFTA with other member countries.
To read the full report please click here .