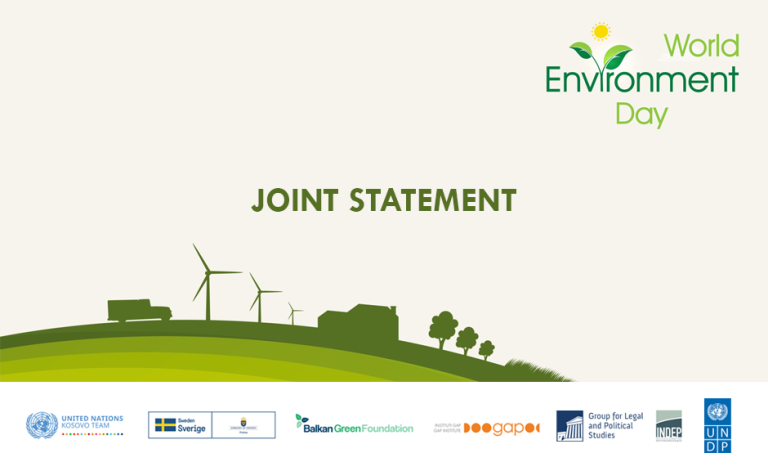 It's time we all act for a healthier environment!

Environmental degradation and air pollution are impacting our society in every possible way, starting from the air we breathe, the water we drink and the food we eat. We believe that a healthy environment is a basic right and it is time we all act to preserve it!

The theme of this year's World Environment Day - Air pollution - is a wakeup call for all of us to act on improving air quality and protect human health through behavior change and implementation of sustainable development policies and practices.

Air quality in Kosovo is very bad, often making it unsafe for certain groups of people to even go outside, particularly during winter, when Prishtina consistently ranks as one of the most polluted cities in the world.

It is clear that these problems derive from multiple sources, one of which is the unsustainable use of natural resources. The emissions deriving from energy production and the old transportation fleet are causing thousands of people to suffer from respiratory diseases and premature deaths. Therefore, our behavior towards how we use natural resources and how to treat the environment has to change immediately.

The Kosovo institutions should further increase their efforts in acting, but so should every one of us. Each of us should have our own commitment and act responsibly to make a healthier living environment. Kosovo institutions have voluntarily signed the Sustainable Development Goals and the Agenda 2030 within which the environment plays a very important role not only in the context of preservation of life on land but also on the principle of reducing social inequalities.
Today, we specifically call upon all Kosovo institutions to create all necessary conditions by implementing mandatory policies to improve the environment in Kosovo.

This statement has been endorsed by the following entities:
United Nations Development Coordinator
The Embassy of Sweden in Pristina
Balkan Green Foundation
GAP Institute
Group for Legal and Political Studies
Institute for Development Policy
United Nations Development Programme