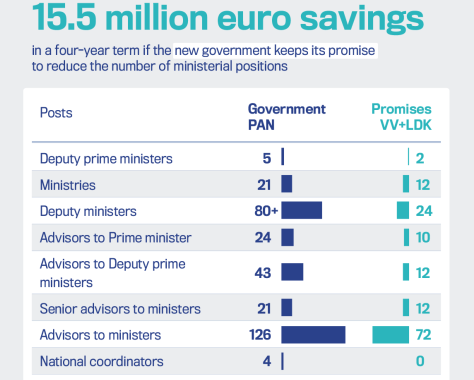 Reducing the size of government, based on the electoral promises of Vetëvendosje (VV) and Lidhja Demokratike e Kosovës (LDK) parties, which are expected to build a coalition and form the new government, as per GAP Institute's calculations will save the state budget around 15.5 million euro during a four-year term.
As specified in the administrative instructions 04/2008 and 01/2008, deputy prime ministers, ministers, deputy ministers, political advisors and cabinet chiefs, are entitled to certain benefits in addition to regular salary. Specfically, they enjoy given monthly amounts for representation and mobile and fixed-line phone expenditures. By cutting the job positions presented on the infographic, the expenditures for meals, gas and telephone would be automatically reduced for 3.4 million euro in a four-year term.
Based on electoral promises the number of deputy prime ministers will be reduced from 5 to 2. While, by reducing the ministerial posts from 21 to 12, based on the promises of the two parties, the number of deputy ministers and political advisors is reduced too. VV and LDK have promised that they will appoint at most two deputy ministers per ministry, which infers that the number of deputy ministers will drop from 80+, that were in the previous government, to at most 24 deputy ministers. With only 12 ministries, the number of advisors per minister based on the regulation in force will be at most 7, including here the senior political advisor. Similarly, VV promised that the number of political advisors to prime minister will be 5. However, since the legal framework, which was amended during the previous government's term, enables the prime minister to appoint advisors from nine communities in Kosovo, their number is expected to be at most 10.
VV-LDK have promised that the positions of national coordinators, where there were 4 such positions in the previous government with monthly salary equivalent to that of the ministers, will no longer exist in the new government. Also, it is expected that the number of advisors to deputy prime ministers will not be higher than that of prime minister's, and considering that deputy prime ministers may hold ministerial positions too, then they will have at most 12 advisors.
Considering these points, GAP Institute estimates that in a four-year term at least 15.5 million euro will be saved from salaries and expenditures that result from political positions within the government. Besides saving, a smaller government increases the effectiveness and coordination, shortens the decision making time, increases the citizens trust, and creates direct addresses of responsibility.