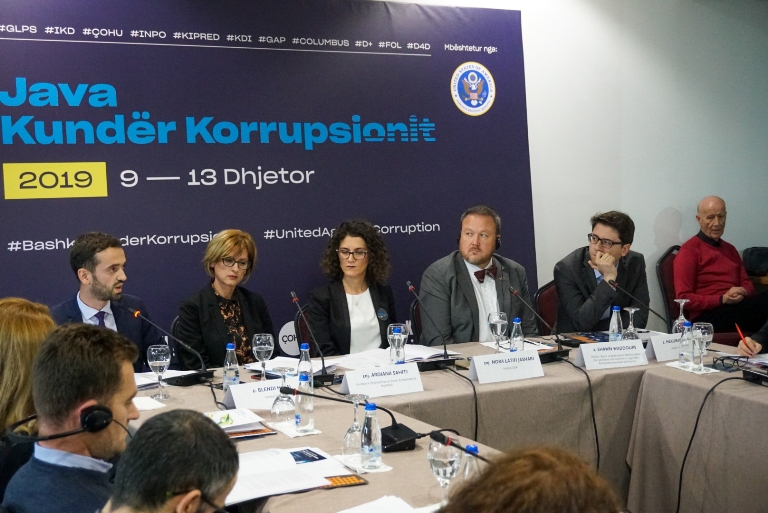 As part of the Anti Corruption Week, GAP Institute published today the report titled: The "fight" over per diems: contrasting government policies on official travels Nora Latifi - Jashari, Executive Director at GAP Institute, stated that per diems for official travels both inside and outside the country, constitute a rather large sum of public money. Although there is no limit to the amount of per diems to be paid to public officials, as it depends on the number of trips and days spent in a particular country, it is important to analyze how much budget is spent on per diems, do Kosovo institutions have a unified payroll system for official trips, or who decides for a certain public official to attend a training. The legal basis governing official travel inside the country and abroad must be reviewed and envisage various cases that may be encountered by civil servants.
For this research, GAP Institute has conducted surveys with secretary generals of ministries as well as around 600 civil servants regarding the application of current per diem policies in Kosovo.
Blendi Hasaj - Researcher at GAP Institute, presented the findings of the report, and indicated that expenditures of Kosovo's institutions for official trips inside the country and abroad in 2018 were around 14.7 million euros, which represents the highest amount spent for this category since 2014. In some cases, individuals have received annual incomes from per diems in the amount of almost double the annual salary, and the budget for official travels is used to pay per diems also to people who are not employed in public institutions. In addition, there are cases where advances are never returned by civil servants and the payment of per diems is made using fixed tariffs, in violation of the decision of the Ministry of Finance. Despite a decision of the Office of the Prime Minister of 2008, which requires institutions to ensure that events funded from the Kosovo budget within the country, many ministries have failed to implement the said decision. According to a survey of GAP Institute, 65% of civil servants believe that per diems are not approved on a reasonable and merit basis. In addition, over half of the respondents think that there is often abuse of per diems and that when per diems are not approved, no adequate written justification is provided. Recently, a large number of civil servants have stated that they wouldn't have dared to report possible abuse of per diems. In the end, Mr. Hasaj also presented the recommendations of the research to relevant institutions, in relation to the regulation of the legal basis, building a reliable system for reporting abuses, performance audits for official trips and review of tariffs according to legal deadlines.
Mr. Shawn Waddoups, Director of the Bureau of International Narcotics and Law Enforcement Affairs (INL), of the US Embassy in Kosovo, agreed with the recommendations of GAP Institute, that the majority of trainings could have been organized in Kosovo, thus avoiding per diems from two sources, as well as to apply a standard practice of approving per diems in line with the recommendations of GAP Institute and the National Audit Office.
Mrs. Ardiana Sahiti, Internal Auditor at the National Audit Office (NAO) said that the purpose of official travel expenses is to finance employees expenses for approved activities related to their work; and to encourage professional development.
All public institutions have internal control systems in place, while the National Audit Office, as part of external control, continuously reports how public money is being spent. As a prerequisite for a good management of official travel expenses, there must be fair, transparent and efficient policies in place, and implementation thereof. For this purpose, last year, NAO sent a request to the Government of Kosovo for the review of official travel policies, as the current Administrative Instruction is outdated, the list of tariffs was not in line with the living costs in the places of travel, and that the legal gaps have led to inconsistent implementation. As a result, a decision of the Minister of Finance was approved in the same year to amend the tariffs. Finally, according to Ms. Sahiti, NAO recommends the strengthening of controls on the management of official travel advances and that the legal deadlines for closing advances is respected.
Mr. Hekuran Murati, from the Self-Determination Movement (LVV), stated that LVV, together with other stakeholders, has an interest in drafting new and balanced policies for efficient management of per diems, and bring results to public institutions.
In addition to the panelists' input, important recommendations were also made by central-level civil servants.
You can read the full report here