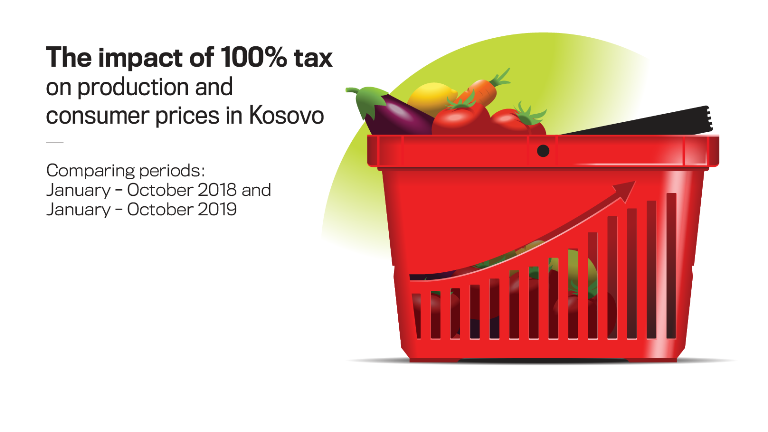 Although we are at a time when the coronavirus (COVID-19) pandemic has affected the lives of citizens, and economic and social activity in Kosovo, GAP Institute today published the findings of a research conducted prior to the measures taken by the Kosovo Government to prevent of the spread of Coronavirus. In this research, GAP Institute addressed the impact of 100% tax on production and prices in Kosovo, comparing the period January-October 2018 with January-October 2019.
The findings of the report show an increase in activities in the production sector (processing industry) in Kosovo, however, it is not significant and has lower trends than in the period prior to the introduction of the tariff. In the period January - October 2019 the sector grew by 10%, whereas in the same period in 2018 the processing industry grew by 16%. Moreover, the average employment trend during the months of 2019 followed the trends of previous years, with no deviation from the downward and upward cycles in the number of employees. Specifically, during 2019, the number of employees in the processing industry increased on average by 7%, while in 2018 this increase was 10%. However, a more significant impact of the 100% tariff is observed on product prices in Kosovo during 2019. Highest increases were in food and beverage prices, which increased by about 6.1% in January - 2019 compared to 2018, which was the highest increase from 2017.
Imports of products from Serbia and Bosnia and Herzegovina have fallen sharply since the introduction of the 100% tariff, while Kosovo's exports to these countries have declined slightly. Greece, North Macedonia and Bulgaria were among the countries with the most significant increases in their share of Kosovo's total imports in 2019.
Since November 21, 2018, Kosovo applies a 100% tariff on products imported from Serbia and Bosnia and Herzegovina (BiH). Until then, Serbia was the main exporter in Kosovo, but at the same time it was the country applying most trade barriers to Kosovar businesses exporting there. The introduction of the tariff has also presented challenges for a number of producers in Kosovo to their dependence on raw material coming from Serbia and for importers of final products. In addition to the need to replace products imported from Serbia, businesses have also faced increased transport costs.
You can find the full report by clicking here.
The project "Innovation for resilient media and citizen engagement" is implemented by: Kosovo 2.0 and GAP Institute.
This report has been published with the assistance of the European Union. The contents of this publication are the sole responsibility of GAP Institute and Kosovo 2.0, and do not represent the views of the European Union.