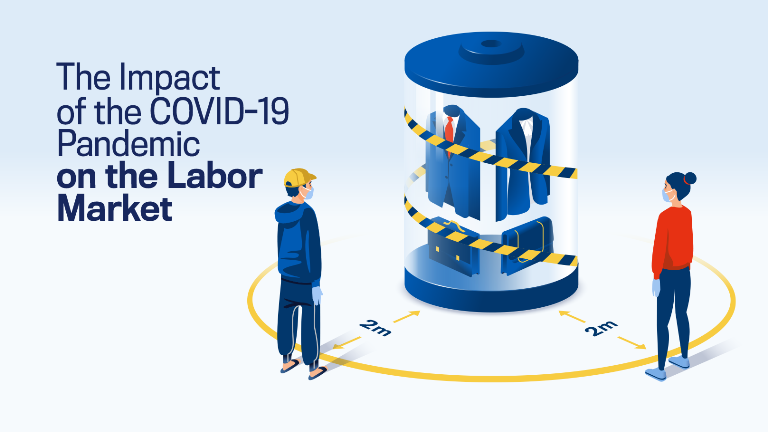 The GAP Institute has analyzed the early impact of COVID-19 pandemics on the labor market and the impact of government intervention measures on mitigating unemployment risks.
This report shows that the spread of pandemic in Kosovo, accompanied by the restriction of movement and the shutdown of many business activities, has had an immediate impact on the labor market. In April alone, a total of 32,377 new jobseekers were registered, bringing the total number of jobseekers in the Employment Agency to 37,392 in the first four months of 2020. A large proportion of them (16,820) are women. Given the very low rate of womens economic activity and other employment barriers, the unemployment rate among women may rise even further.
Data from the Tax Administration of Kosovo show that the industries employing the biggest number of workers in Kosovo - that of wholesale and retail trade, construction and processing industry, recorded a sharp reduction in the number of workers during the period January-March 2020. While in March 2019 the wholesale and retail trade industry employed about 80 thousand people, in March 2020 this number fell to about 43 thousand. The number of contribution payers to the Kosovo Pension Fund (Trust) has also decreased by about 20% in most municipalities in Kosovo.
Despite the easing of restrictive measures and the gradual opening of business activities, the report concludes that the labor market cannot immediately restore its pre-pandemic situation. This is because not all economic activities that will be opened will have the same demand for goods or services and because the post-pandemic world may require new economic activities and services which also require new skills. Thus, without a comprehensive economic recovery plan, the number of unemployed could rise further in the coming months.
To read the full report please click here.
The analysis in Serbian language is available in printed form.
The project "Innovation for resilient media and citizen engagement" is implemented by: Kosovo 2.0 and GAP Institute.
This report has been published with the assistance of the European Union. The contents of this publication are the sole responsibility of GAP Institute and Kosovo 2.0, and do not represent the views of the European Union.