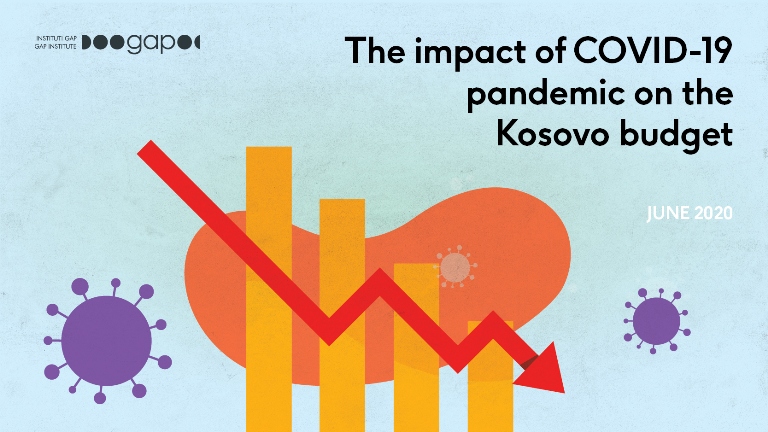 Today GAP Institute published the report "The impact of COVID-19 pandemic on the Kosovo budget". The purpose of this report is to present the impact of the crisis caused by the COVID-19 pandemic on revenues, expenditures and the fiscal deficit of 2020, as well as the legal restrictions that the Government of Kosovo has for addressing the crisis in terms of budget.
In the period March-May 2020, when most activities in the private and public sector in Kosovo were suspended due to COVID-19 pandemic, budget revenues were 133 million Euros (28.2%) lower than in the same period of last year, while expenditures were 4.7 million Euros (1%) lower. The decrease in revenues, together with the increase in expenditures, will lead to exceeding of the budget deficit rule for the first time. Despite increase in deficit, Kosovo continues to have the lowest level of public debt in the region.
Despite planning to increase expenditures, the category of capital investment as a category which helps to foster economic growth will have a significant decrease compared to what was planned. Meanwhile mainly due to the need to provide assistance to the private sector, we have a significant increase in subsidies. Albeit necessary, the big increase in subsidies, as one of the least legally regulated categories, could create room for abuse of public funds.
In order to address the economic and social situation created as a result of measures to suspend and restrict activity of most businesses in the private sector, the Government of Kosovo approved an Emergency Fiscal Package worth 179.6 million Euros. This package contains mainly short-term measures to address the problems caused by COVID-19. In the governing program 2020-2023, the Government of Kosovo has foreseen the second package for Economic Recovery which plans to mobilize about 1.2 billion Euros within two years (2020-2021).
Due to legal restrictions, it will not be possible to fully manage Emergency Fiscal Package and the Recovery Package without the involvement of the Assembly of Kosovo. In addition to the need for approval by the Assembly of Kosovo for any transfer exceeding 25% of a budget allocation of the relevant institution, the involvement of the Assembly will also be needed for the approval of new loan agreements, which require 2/3 majority vote of MP-s. If the loan agreements are not approved, public expenditures will decrease and this will further accelerate the economic downturn.
For accessing the full report please click here.