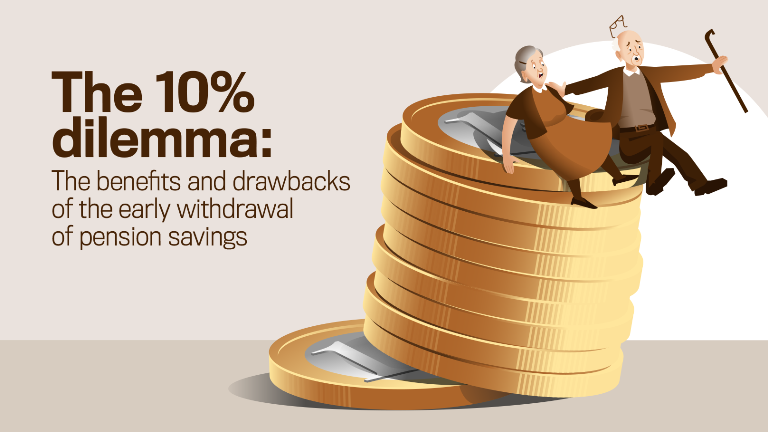 Today GAP Institute has published a report that analyzes the impact of early withdrawal of pension savings from Trust by presenting the potential benefits and drawbacks from the implementation of this measure.
This report shows that the Government proposal to allow the withdrawal of 10 percent of pension savings is an unconventional method of increasing aggregate demand in the economy. This measure does not provide a stimulus for the people who are mostly in need, such as the unemployed and those employed without employment contracts whose incomes are relatively small. The maximum amount that can be withdrawn with this measure is about 200 million euros, but considering that a large number of citizens do not have enough savings in Trust to make the withdraw of 10 percent beneficial, the impact on aggregate demand is not expected to be large. On the other hand, the beneficiaries of this measure, risk being left without income earlier during the retirement period. However, since the withdrawal of money from Trust is intended to be done voluntarily, citizens who do not want to withdraw their pension savings are not obliged to do so.
On the other hand, since this money will not be compensated by the state, the implementation of this measure would not have a direct impact on the state budget or the public debt of Kosovo. The possibility of withdrawing the savings of Trust, for a part of the citizens can ease the debt burden caused by the economic situation of the pandemic and increase the circulation of money in the market even for the persons who do not benefit from this measure. There is also the possibility for employers and employees to voluntarily recover the money withdrawn from Trust in the future by increasing the contribution up to 10% of their annual salary.
In this report, GAP Institute has also analyzed the impact of this policy on the liquidity of the Trust as well as that of the Kosovo banking system in general.
To read the full report please click here.
The analysis in Serbian language is available in printed form.
The project "Innovation for resilient media and citizen engagement" is implemented by: Kosovo 2.0 and GAP Institute.
This report has been published with the assistance of the European Union. The contents of this publication are the sole responsibility of GAP Institute and Kosovo 2.0, and do not represent the views of the European Union.