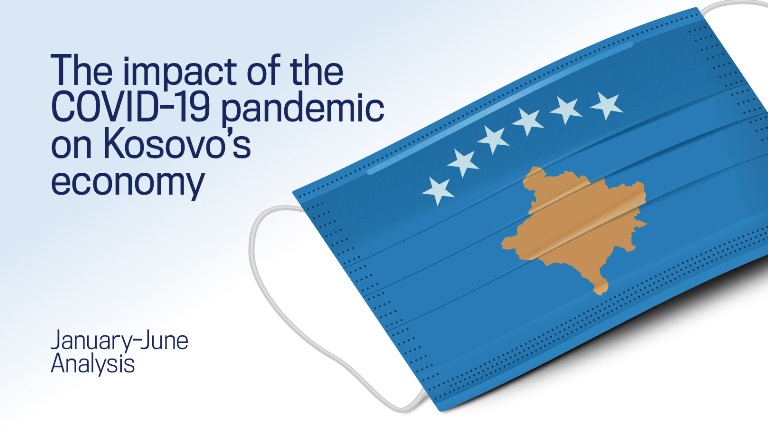 Measures to prevent the spread of the pandemic caused the highest decline in domestic production since the post-war period, leading to a fall of Gross Domestic Product (GDP) by 9.28 percent in the second quarte. GAP Institute, through this report, presents the main components that make up the GDP, as well as other macroeconomic indicators in the first half of 2020 (January-June) in order to reflect the impact of this crisis on the country's economic sectors.
The emergency situation changed consumer behavior, as households raised spending on basic products such as food, water and electricity, while reducing non-essential spending. Economic activities that marked an increase in the second quarter were the extractive industry, processing, electricity and water supply, by 19.8 percent, and information and communication industries by 29.6 percent.
In the meann time, all other industries suffered a decline in revenues. The highest decline was recorded in the construction industry, with -47.08 percent, and trade, transport, accommodation and food services, with -24.4 percent. During the first six months of the year, industries reported a turnover of around 584 million Euros, which is 11 percent less than in the same period the previous year, in the Tax Administration of Kosovo (TAK).
The Government of Kosovo, approved the first fiscal package worth 190 million Euro. It also proposed a refocus of budget expenditures, within the legal thresholds, from the category of capital expenditures to the category of salaries, transfers and subsidies. Although a large number of citizens and businesses benefited from this package, its full implementation did not take place in the second quarter. As a result, expenditures in the first six months amounted to only 18.8 million Euro, or around 2 percent higher than in the first half of the previous year. The refocus of the budget, as the only measure barring an increase in public debt, will be ineffective in supporting economic recovery.
To read the full report click here.