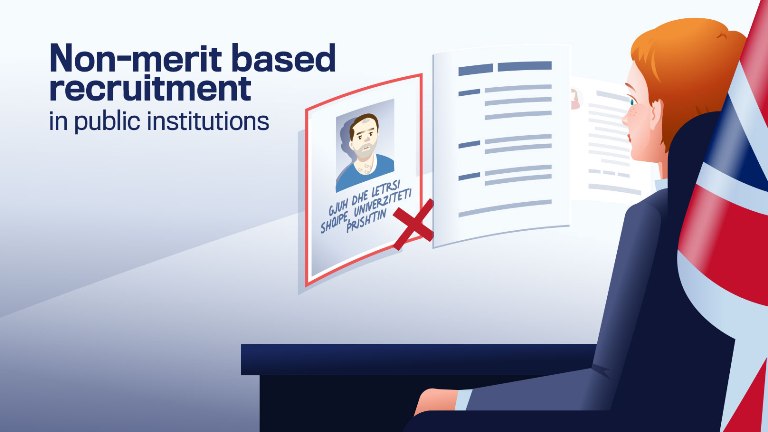 Today Gap Institute has published the report "Non-merit based recruitment in public institutions", which analyzes the impact of the British project on the appointment of professionals to senior management positions. The report argues that the British Embassy project has had a positive impact has had a positive impact not only on merit-based recruitment to a number of important senior management positions, but also in creating a new recruitment monitoring culture, significantly increasing the quality of applicants and the level of transparency of the selection process. However, the high level of non-implementation of the recommendations of the British Embassy remains a point of concern, which is not only a violation of the commitments and a waste of the British taxpayers money, but also an indication that Kosovo institutions do not prioritize the installation of meritocracy in senior positions.
To prevent nepotism and establish meritocracy in senior position employment, the British Embassy provided assistance to the Government and the Assembly of Kosovo. The first phase of this cooperation started in October 2016. The second phase of the project lasted from September 2018 to March 31, 2020. In July this year, the British Embassy extended the project with the Assembly and the Government throughout the term of the Assembly, and the Government respectively. The implementation of this project entails a high budget cost. The total amount paid from October 2016 and until the completion of the current contract reaches 1,772,356 pounds (nearly 2 million euros).
However, Kosovo institutions in many cases, ignored the recommendations of the British partner to appoint merited, valued and eligible people in key positions. In 14 cases of recruitment, recommendations of the British partner were completely ignored or people who were not on the shortlist of the implementing partner were appointed.

The report argues that in addition to reducing corruption and nepotism, merit-based recruitment is also a prerequisite to establish an equal and development-driven society.
To read the full report click here.
The analysis in Serbian language is available in printed form.
The project "Innovation for resilient media and citizen engagement" is implemented by: Kosovo 2.0 and GAP Institute.
This report has been published with the assistance of the European Union. The contents of this publication are the sole responsibility of GAP Institute and Kosovo 2.0, and do not represent the views of the European Union.