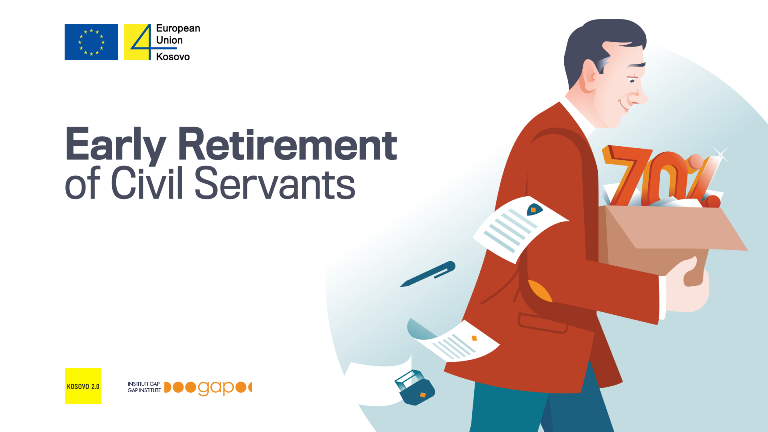 GAP Institute published today the report on early retirement of civil servants. The report explains the rules and procedures on early retirement and, for the first time, presents detailed data on the age of civil servants in all budget organizations.
According to the data provided by the State Treasury, civil servants make up 26.7% of all public sector employees. The average age in the civil service is 47.5 years. Of the total number of civil servants, 14.1% over the age of 60.
According to the Law on Public Officials, early retirement starts at the age of 63 and can be initiated at the request of civil servants or by a decision of institutions. There are 1,091 civil servants who have reached the age of 63 (7.9% of civil servants).
Municipalities employ more civil servants over the age of 63 than central level institutions and independent institutions.
Taking into account that Kosovo has the highest ratio in Europe of public sector employees compared to the total number of employees, GAP Institute recommends policies that encourage early retirement and non-replacement of such vacancies with new employees in order to lower the number of employees in the public sector and reduce the state budget for wages and salaries.
Please click here for the full report.
The analysis in Serbian language is available in printed form.
The EU funded project "Innovation for resilient media and citizen engagement" is implemented by: Kosovo 2.0 and GAP Institute.
This report has been published with the assistance of the European Union. The contents of this publication are the sole responsibility of GAP Institute and Kosovo 2.0, and do not represent the views of the European Union.