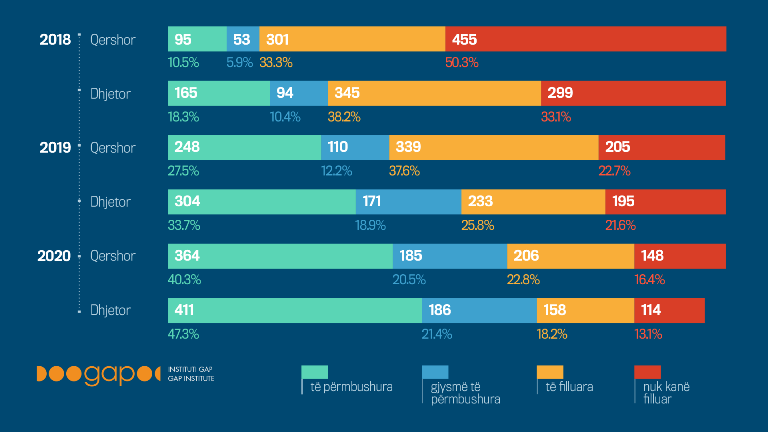 GAP Institute has published on the electronic platform "Municipal Identity Card" the latest assessment on the fulfillment of the promises of mayors from the local elections 2017. The monitoring period includes the fulfillment of promises by December 2020.
Out of a total of 869 promises identified by the GAP Institute in 25 different municipalities of Kosovo, by December 2020, 411 promises have been fulfilled, 186 promises have been partially fulfilled, for 158 promises there were initiatives in their fulfillment, whereas in 114 promises there was no progrss at all.
Viewed by percentage, out of 869 promises given, by December 2020, only 47% of the promises have been fulfilled. Most of the promises have been fulfilled in the field of social welfare 74%, administration 58%, economy 57%, agriculture 56%, health 50%, public services 47% and in the field of infrastructure 45%. While on the field urbanization, education and culture there was less work done.
The municipality that has not been included in the update this time is that of Podujeva, where at the end of November 2020, extraordinary elections for mayor were held. GAP monitored the promises of the candidates for mayor and noted that the current mayor of this municipality has given 44 promises in various fields.
GAP Institute monitors the fulfillment of promises in 26 out of 38 municipalities, as 12 of the current mayors did not did not provide concrete promises during their campaign in 2017 (Skenderaj, Mamusha and Serb-majority municipalities).
Through the evaluation of electoral promises, GAP Institute aims to hold mayors accountable for the given promises. Consequently, this is also done in cooperation with local organizations, which should be strengthened more in the monitoring of local governance.
To see the details of the promises made and the progress of their fulfillment, you can visit the electronic platform on this link: http://www.komunat.institutigap.org/Premtimet