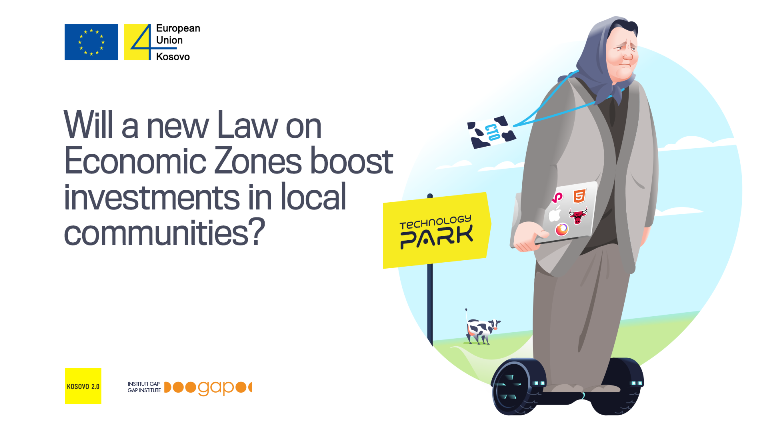 GAP Institute today published the report on the new law on Economic Zones. The aim of this draft law is to regulate the main aspects of economic zones, including their powers to establish them, ways of administration, location of zones, period of use, and forms of promotion of economic zones.
Despite having the legal basis on the establishment of economic zones in place since 2009, there were legal uncertainties and conflicts of powers on the establishment of economic zones throughout this period.
Government decisions to establish economic zones were politically motivated, rather than based on cost-benefit studies and analysis. The government has also used economic zones as a means of expropriating private property for the benefit of certain groups. Works on the finalization of infrastructure in economic zones were delayed for many years, and many businesses terminated their contracts to relocate in these zones, as a result.
Although housing over 76 businesses and occupying at least 422.5 hectares of land, there is no detailed analysis of economic benefits, investment growth and employment of economic zones. Other than clarifying the legal procedures, the proposed amendments to the Law on Economic Zones fall short of providing sufficient incentives for enterprises to relocate in economic zones.
To read the full report click here.
The report in Serbian language is available in printed form.
The EU funded project "Innovation for resilient media and citizen engagement" is implemented by: Kosovo 2.0 and GAP Institute.
This report has been published with the assistance of the European Union. The contents of this publication are the sole responsibility of GAP Institute and Kosovo 2.0, and do not represent the views of the European Union.