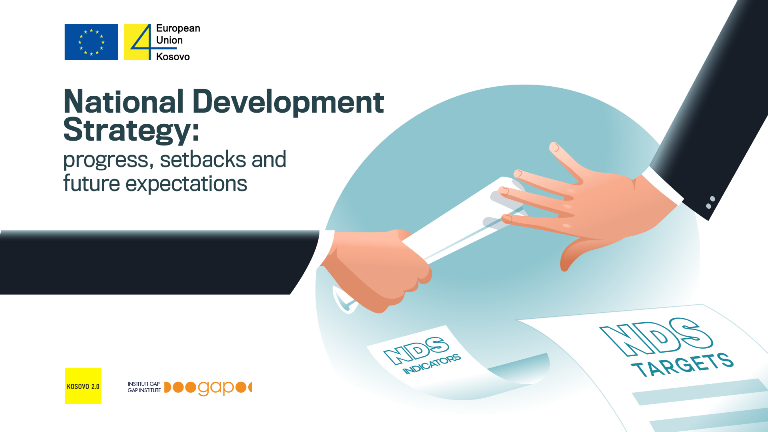 Today, GAP Institute and Kosovo 2.0 hosted a virtual event introducing the GAP Institute report on National Development Strategy: Progress, Setbacks, and Future Expectations.
In his introductory remarks, Jeton Mehmeti, Research director at GAP Institute, noted that in September of last year, the Government of Kosovo began drafting the National Development Strategy 2030, aimed at setting long-term objectives on the Rule of Law, Economic Growth, Social and Environmental Development. However, as Kosovo had developed such a strategy in 2016 and it is still in effect, it is crucial to analyze what are the results achieved to date so that the objectives of the new strategy are set to be as realistic as possible.
Blendi Hasaj, Senior Researcher at the GAP Institute, presented the findings of the report, noting that the report is limited to assessing the performance on the 12 key macroeconomic indicators of the Strategy, and that this monitoring effort showed that the achievements are few, including setbacks in achieving higher rates of economic growth, employment, improving the trade balance, and boosting Foreign Direct Investment. Consequently, achieving most of the targets by 2021, even if the COVID-19 pandemic had not occurred in 2020, would have been a near impossible feat.
Ms. Rozeta Hajdari, Minister of Industry, Entrepreneurship, and Trade, noted that the delays in the implementation of the previous strategy are more than evident, especially in the proper monitoring of progress and measurement of NDS indicators. She also referred to the need to include measures within the NDS that address the economic losses suffered due to the COVID-19 pandemic.
Ms. Mikaela Gronqvist, Team Leader from the EU Office in Kosovo, noted the importance of engaging in broad discussions on NDS 2030, where in addition to line ministries, there should also be involvement from the civil society and the citizens of Kosovo. She highlighted, inter alia, some of the problems identified during the implementation of the NDS 2016–2021, such as lack of accountability and inadequate budget allocations.
Mr. Vedat Sagonjeva, Director of the Strategic Planning Office under the Office of the Prime Minister, noted that the findings of the Report will be considered during the process of drafting the new strategy. He also stressed that some of the setbacks in implementing the strategy measures were due to lack of budget support and domestic political instability.
Other participants from civil society, representatives of foreign embassies and organizations in Kosovo also contributed to this discussion.
Please find the full report by clicking here.
The analysis in Serbian language is available in printed form.
The EU funded project "Innovation for resilient media and citizen engagement" is implemented by: Kosovo 2.0 and GAP Institute.
This report has been published with the assistance of the European Union. The contents of this publication are the sole responsibility of GAP Institute and Kosovo 2.0, and do not represent the views of the European Union.