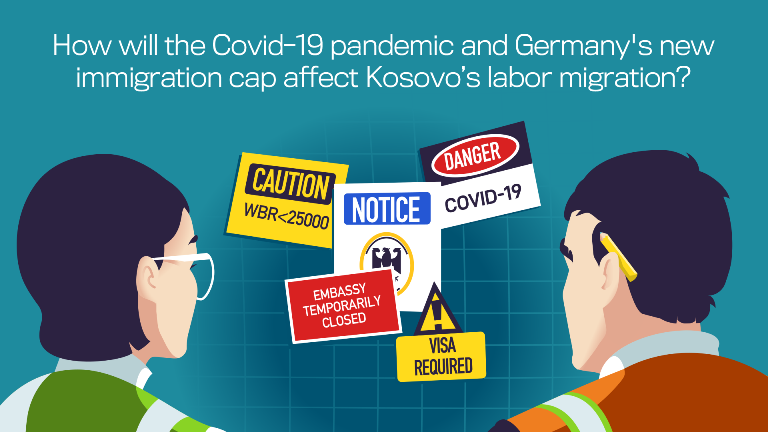 Today, GAP Institute hosted a hybrid virtual event introducing its report on How will the Covid-19 Pandemic and Germanys new immigration cap affect Kosovos labor migration?
In her opening remarks, Nora Latifi-Jashari, Executive Director at the GAP Institute, noted that in 2016, the German Government introduced the Western Balkans Regulation (WBR), as a means of creating legal avenues for immigration to Germany. Although this Regulation has been extended through 2023, the quota provided therein for the Western Balkans countries, coupled with the COVID-19 Pandemic, are expected to have a direct impact on labor migration from Kosovo.
Gentian Gashi, Researcher at the GAP Institute, presented the findings of the Report, noting that the citizens of Kosovo have shown great interest in work visas. Between 2016-2020, more than 90 thousand job related applications were submitted to the German Embassy in Kosovo. On average, about 17,000 applications per year are approved by the German Federal Employment Agency for citizens of Kosovo. However, with the new restrictions, the number of approved applications for Kosovo is expected to fall to around 7,500 per year starting from 2021.
Mr. Jörn Rohde, German Ambassador to Kosovo, noted that Germany has imposed a new restriction only on the approval of employment contracts under the WBR. In terms of visas processed at the German Embassy in Pristina, Kosovo has the largest processing quota in the Western Balkans. Mr. Rohde asserted that with the end of the pandemic and movement restrictions, as well as with the expected capacity upgrades at the Embassy, it will be able to process visas again and with an added volume without long waiting times.
Ms. Regina Hufnagel from the German Federal Employment Agency (FEA) shared that in terms of the labor market in Germany, in recent years, there have been difficulties in filling vacancies. Based on demographics, this trend will persist in the coming years. FEA has observed that the WBR has proven to be successful in adapting to the labor market demands.
Mr. Ilir Kapiti, Deputy Minister of Finance, Labor and Transfers, pointed out that brain drain is especially dangerous in the case of Kosovo, as dire straits drive young people to immigrate. In addition to brain drain, Kosovo also stands to incur fiscal losses due to immigration. The current Government of Kosovo is committed to provide long-term employment opportunities for young people who are potentially looking to immigrate.
Ms. Nora Hasani from the German-Kosovar Business Association noted the concern of brain drain in the private sector in Kosovo. The private sector faces various challenges and one of them is the lack of skilled employees. She also pointed out the role of the Diaspora in Kosovo and the need to network Diaspora professionals to leverage their potential and expertise.
Other participants from civil society and business sectors also contributed to this discussion.
To read the full report click here.
The full-length discussion is available at: https://bit.ly/3sXNnHf