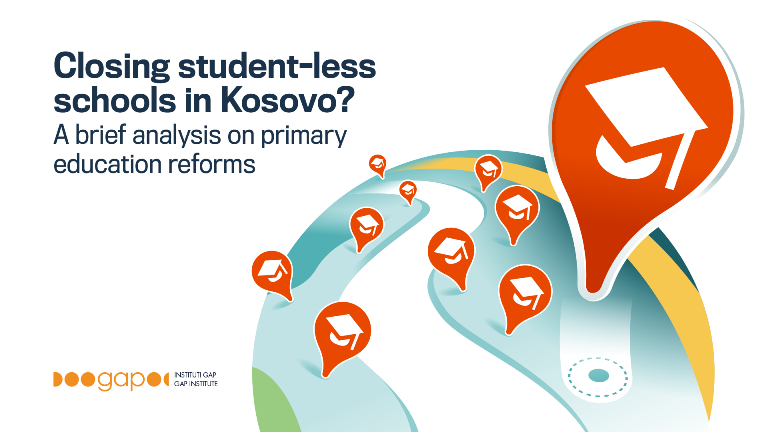 Today, GAP Institute hosted a hybrid virtual event introducing its report on "Closing student-less schools in Kosovo? A brief analysis on primary education reforms".
In her introductory remarks, Fjolla Kaçaniku, from the University of Prishtina, noted that after the decisions by the Municipality of Kamenica and Drenas to close some educational institutions and relocate students to several other schools, GAP Institute engaged in research to determine whether other educational institutions would be able to implement such practices as well.
Bekim Salihu, Senior Researcher at the GAP Institute, presented the findings of the Report indicating that from school year 2008/2009 to school year 2019/2020, the number of students has declined by 26% or 114,323 students. Based on data provided by 19 municipalities, evidently there are 340 classes with 5 or fewer students and 642 classes with less than 10 students. While student numbers have declined, the data show that the educational staff (teachers, administrative and support staff) body has grown by 2% for the same comparative period. Except for the Municipality of Fushë Kosovë, Municipality of Zveçan and Municipality of Novobërdë recording a rise in the number of students, in all other municipalities there are declining numbers of students. Numbers plummeted in the municipalities of Kamenica (-44%), Junik (-42%), Viti (-39%), Dragash (-39%), Prishtina (-13%) Peja (-24%) Prizren (-24), Gjilan (-36%), Gjakova (-32%). In its strategic documents, the Ministry of Education has failed to address the problem of declining student numbers across municipalities. During the 2015-2020 period, this Ministry alone invested approximately EUR 134 million in the construction of schools in municipalities.
Shqipe Bruçi, Deputy Director of the Department of Pre-University Education at the Ministry of Education, Science, Technology, and Innovation (MESTI), shared that the Ministry plans to include the need for school reorganization reforms at the municipal level in its next Strategy on Pre-University Education. The entire process will be conducted in cooperation with the local level, and it is expected that appropriate criteria, deadlines, and models will be introduced for all municipalities.
Qëndron Kastrati, Mayor of Kamenica, posited that the reform undertaken by the municipality that he runs is necessary, because out of 4 schools that have been closed there were a total of 19 students versus 15 teachers. He noted that it is imperative for this process to be replicated in other municipalities, while urging the central government not to hinder the launched reforms.
Naim Qelaj, Ombudsperson, stated that this Report of the GAP Institute is yet another call directed to all institutions to address this issue and find a solution. He also stressed the need for coordination between local and central level institutions.
Other participants from the Municipal Education Departments and civil society representatives also contributed to the virtual discussion. C
Please click HERE to read the report.
Click in the link to watch the roundtable: HTTPS://BIT.LY/3HIR1Y8.