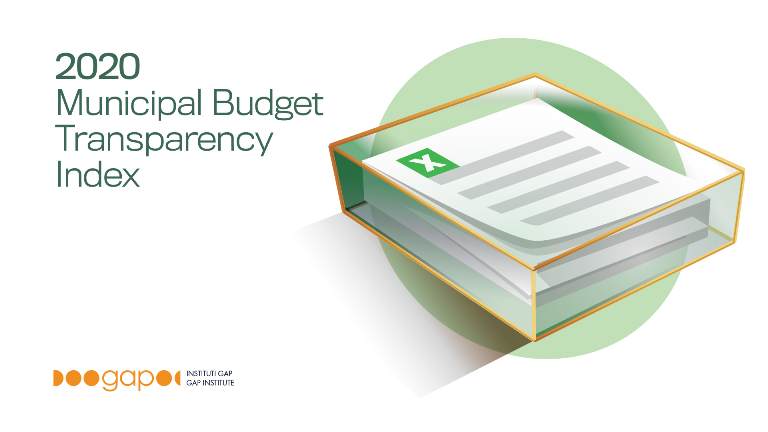 Today, GAP Institute published the report "Municipal Budget Transparency Index 2020". The report provides an assessment of the budget transparency of municipalities in Kosovo, ranking municipalities based on best performance. The assessment is based on the number of published budget documents, the organization of budget hearings with citizens and responds to the requests of the GAP Institute for access to budget documents.
The GAP Institute Index for 2020 shows an above average level of municipal budget transparency, where 24 out of 38 municipalities have scored 50 or more on the Index. The municipalities with the highest budget transparency in 2020 are Hani i Elezit (100 points), Shtime (86 points) and Mitrovica (85 points). While the municipalities of Zubin Potok, Leposavic, and Zvecan have not scored any points on the Index, neither publishing any budget document nor hosting any budget hearing with citizens.
The greatest progress in budget transparency in 2020 was achieved by the municipalities of Malishevë, Shtime, and Shtërpcë. While the municipalities with greatest setbacks are Drenas, Novoberda and Ferizaj.
Notwithstanding legal requirements, a significant number of municipalities persist in failing to publish budget documents as required by the applicable law, namely the Administrative Instruction (MLGA) on Transparency in Municipalities. Therefore, seeking to boost budget transparency in municipalities GAP Institute recommends that MLGA should monitor and promote the implementation of Administrative Instruction No. 03/2020 on Transparency in Municipalities, specifically to assess whether required budget documents are being published by municipalities, and whether such documents are published accordingly under the designated tabs on the municipal website. Also, municipalities should pay attention to the format and quality of published budget documents, in a way to make it easier for citizens to access and use the data. At the same time, municipalities should advance engagements to promote public participation in budget hearings and publish records of budget hearings
The Municipal Budget Transparency Index is an annual report produced and published by GAP Institute since 2017. Unlike the Index editions of previous years, this edition covers budget transparency for the last two years (2019 and 2020).
Please click here to read the full report.