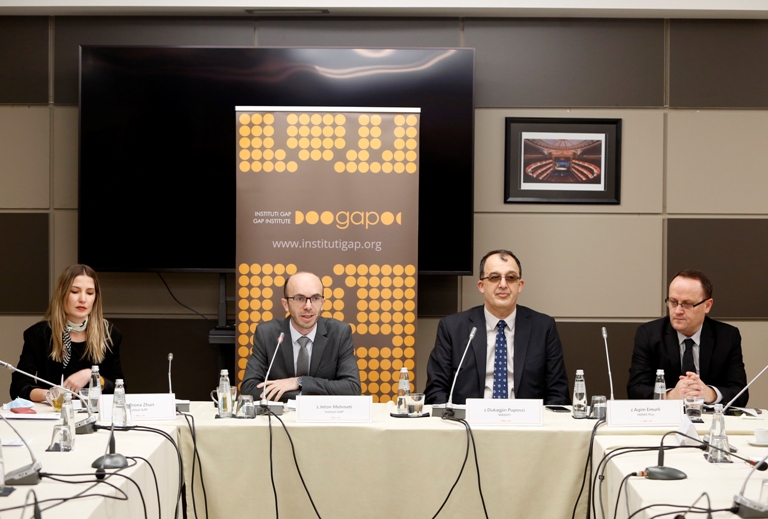 Today, GAP Institute published its report "The Budgetary Impact of Free Education in Public Universities".
Jeton Mehmeti, Research Director at GAP Institute, said that the purpose of this report was to analyze the potential impact of the Administrative Instruction No. 09/2021 on the application of student fees in the revenues of public universities in Kosovo. He stated that, although the Law on Higher Education provides that public universities are mainly funded by government grants, direct payments from students and revenues from research, the government grants only account for an average of 91 percent of their total budget.
Rrona Zhuri, Researcher at the GAP Institute, presented the main findings of the report. The estimated amount of own source revenues impacted by this AI was calculated on the basis of the data received from seven public universities. According to this data, the total estimated amount of own source revenues that will have to be reimbursed from the Kosovo Budget is around 2.6 million Euros. In its conclusion, the research recommends that the Ministry of Education, Science, Technology, and Innovation (MESTI) works on developing a performance-based budgeting mechanism, which requires the drafting of accurate performance indicators and building of evaluation mechanism capacities.
Dukagjin Pupovci, Deputy Minister of MESTI, stated that the approval of the new AI represents a fulfillment of election promises. For the first time, tuition fees are covered to encourage students and foster a higher degree of responsibility. He stated that public universities' budgets are not defined in a formula or through a set of criteria, but rather vary according to their needs. According to him, in 2022 there will be an increase in the budget of public universities, totaling around 50 million Euros. He also stressed the importance of additional investments in universities, encouraging them to get involved in international projects, such as participation in Horizon Europe, Erasmus + and others.
Aqim Emurli, Team Leader at HERAS Plus, stated that public universities and MESTI should follow the trends of the region in terms of their funding. The performance-based financial support, such as in the Austrian model, would be very suitable for Kosovo too. He expressed the readiness of HERAS Plus to assist universities in building institutional capacities.
Other participants, such as vice-rectors of public universities, and local and foreign organizations working in the area of higher education, also contributed to this discussion.
The full report can be found by clicking here.
The analysis in Serbian language is available in printed form.
The EU funded project "Innovation for resilient media and citizen engagement" is implemented by: Kosovo 2.0 and GAP Institute.
This publication was produced with the financial support of the European Union. Its contents are the sole responsibility of GAP Institute and Kosovo 2.0 and do not necessarily reflect the views of the European Union.
#gapinstitute #k2.0 #eu