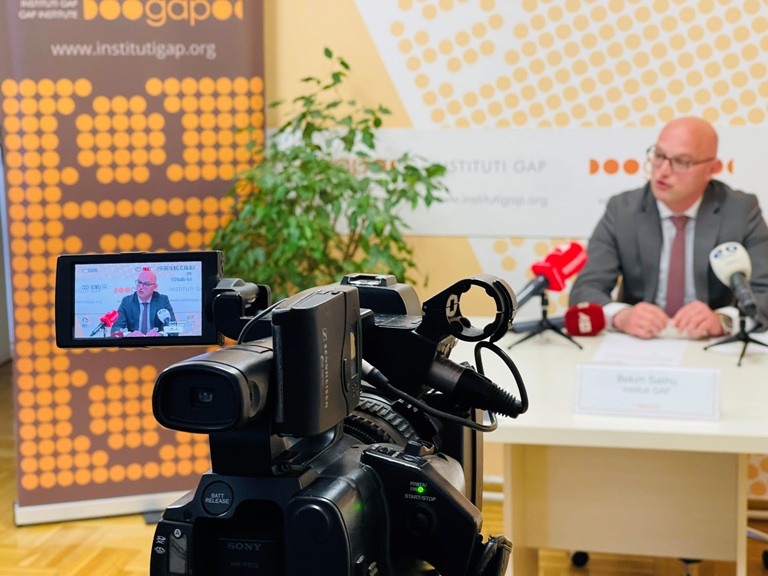 Today, GAP Institute held a press conference unveiling the number of promises made by mayors in the local elections of October and November 2021.
With no active election campaign held in the Serb-majority municipalities, GAP Institute recorded and confirmed 1,819 promises in the 27 other municipalities of Kosovo, compared to 913 in the previous mandate. The largest number of promises was given by the Mayor of Prishtina, with a total of 206 promises, followed by Mitrovica Mayor with 123, Gjilan Mayor with 109, Shtime Mayor with 107, and Kacanik Mayor with 94 election promises. Fewest promises were made by the Mayor of Viti with 19, Decan Mayor with 20, and Peja Mayor with 25 promises.
By area, the largest number of promises were given in public services, with a total of 381 promises, and education with 270. Unlike before, this term more promises have been made in the aera of culture than in infrastructure. 200 promises were identified in culture, with one less in infrastructure. 175 promises were made in economy. This election period more promises were made in health, with a total of 134. Further, in the field of agriculture a total of 157 promises have been made. Urbanism is the area the least promises, 41.
A total of 165 candidates ran for the recent mayoral elections, 158 of whom were proposed candidates from political entities, and the rest from civic initiatives or independent candidates. Out of 165 candidates, only 11 were women, with only two managing to be elected mayors.
In terms of the political distribution of municipalities, the Democratic League of Kosovo (LDK) and the Democratic Party of Kosovo (PDK) have won eight municipalities each, the Alliance for the Future of Kosovo (AAK) five, Vetëvendosje Movement four, Lista Srpska ten municipalities, and one municipality is run by the Turkish community in Kosovo.
Change of power, from one party to another, occurred in 12 municipalities (Prishtina, Shtime, Gjilan, Kamenica, Mitrovica South, Prizren, Hani i Elezit, Vushtrri, Dragash, Junik, Mamusha, and Skenderaj). In 11 municipalities there is a new mayor but the same party as in the previous term. This means that 15 mayors have secured an extension of their mandate for the period 2021-2025.
GAP Institute will continue to periodically evaluate the fulfillment of these election promises, to hold mayors accountable for their words and programs unfolded before the citizens.
The platform of promises given by the mayors can be found at the link: https://www.komunat.institutigap.org/Premtimet
Click here to see the infographicks.