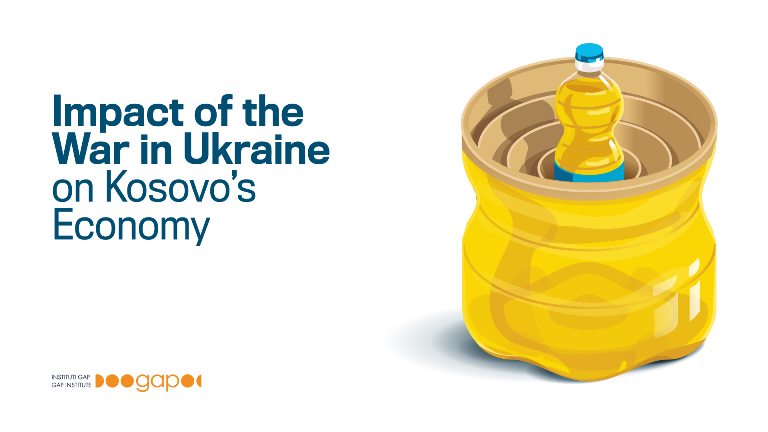 Today, GAP Institute published a new report "Impact of the War in Ukraine on Kosovo's Economy".
The war in Ukraine has caused a significant surge in commodity prices. Russia and Ukraine are among the largest exporters in the world of certain major commodities, such as wheat, corn, gas, oil, vegetable oil, and fertilizers, where they together account for 10 to 40% of global exports of those commodities.
Europe, in particular, relies on Russia for gas supplies at 44% of annual imports; coal at 54%; and oil at 26%. Similarly, wheat inventories worldwide are tight and insufficient to substitute supplies from Russia due to reduced harvests in 2021-2022, in countries like Canada or the United States, but also because of the tendency of countries like Argentina to limit the amount of wheat imports as they aim to hedge against domestic inflation. All these indicate to a significant increase in commodity prices throughout 2022, with the expectation that they will be sustained in the medium term.
Kosovo is a net importer of electricity, oil, wheat, corn, vegetable oil, and developments in international markets are directly reflected in our national economy.Even though Kosovo has a high degree of energy independence, last year had a significant increase in imports and demand, with a cost of about EUR 155 million. Kosovo Customs data on oil consumption, in the last two years, show that the demand for oil in Kosovo has not changed, although we have a significant increase in price. So, despite the large increase in oil prices in Kosovo, demand remains remarkably high. Also, the economy of our country is affected by the increase in import prices of food products and raw materials.
In light of the current situation, GAP Institute recommends that government policies should be such as not to stimulate demand for these products. At this point, the reduction of personal income tax rates for all citizens and the support of initiatives such as the withdrawal of 30% of savings from the Kosovo Pension Savings Trust can produce adverse effects on the economy. It is important for the Government, with revenues collected beyond projections, as a result of high prices, to further support the most vulnerable groups in society at risk of falling into poverty, such as citizens benefiting from the Social Assistance Scheme, those who may lose their jobs, etc.
Agricultural subsidies and reduction of excise duty rates on oil for farmers in Kosovo during 2022, appear to be adequate measures to cover the risk of farmers not increasing production of these crops this year, and such support should be sustained until prices normalize. In addition, energy actors should consider choosing hedging strategies for electricity this year, considering the indications for high electricity import prices even in the medium term.
To read the full report please click here.