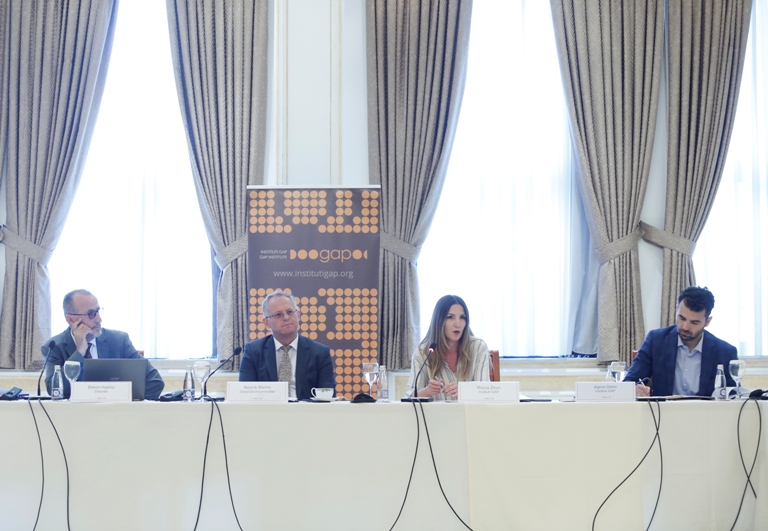 Today, GAP Institute organized a roundtable discussion to launch the report "Impact of the Withdrawal of up to 30% of Pension Savings on Kosovos Economy".
Agron Demi, Research Director at GAP Institute, indicated that the purpose of the report is to analyze the impact that the approval of this Draft-Law may have on citizens' savings in KPST, the economy, and the functioning of KPTS.
Rrona Zhuri, Researcher at GAP Institute, presented the main findings of the report and highlighted that the Draft-Law would affect over 695,000 KPTS contributors and, should all contributors make withdrawals, the total amount withdrawn would reach 594 million Euros. Around 90% of KPST contributors have savings of less than 10 thousand Euros and from them, around 337 thousand citizens will be able to withdraw an average amount of 96.5 Euros, as their savings do not reach 1,000 Euros. Moreover, she stated that the entry of such an amount in the economy would lead to a demand growth, thus further aggravating the situation with rising prices. In conclusion, GAP Institute recommends that the crisis mitigation policies continue, and that the Social Assistance Scheme reform progresses, as the current legal eligibility criteria leave many poor families out of the scheme.
Besnik Bislimi, First Deputy Prime Minister of the Government of Kosovo, stated that the Government of Kosovo was against the withdrawal of pension savings and did not support such an initiative. According to Mr. Bislimi, initiatives that affect the pension fund will lead to the destruction of this important pillar of the state. Moreover, he said that under this law, the largest number of contributors could only withdraw a small amount of funds, and that increasing the amount of money in the market at a time when we were facing an imported inflation was not an appropriate policy.
Bekim Haxhiu, Member of the Assembly of Kosovo and initiator of the amendments to the Draft-Law, said that the withdrawal of pension funds would not affect the investments of KPST. He pointed out that the withdrawal of savings would be voluntary and that the funds withdrawn would help citizens get through this period of rising prices.
The roundtable was attended by representatives of local and international institutions, including the World Bank, the International Monetary Fund, and members of the media.
To read the full report click here.
The analysis in Serbian language is available in printed form.
The EU funded project "Innovation for resilient media and citizen engagement" is implemented by: Kosovo 2.0 and GAP Institute.
This publication was produced with the financial support of the European Union. Its contents are the sole responsibility of GAP Institute and Kosovo 2.0 and do not necessarily reflect the views of the European Union.
#gapinstitute #k2.0 #eu