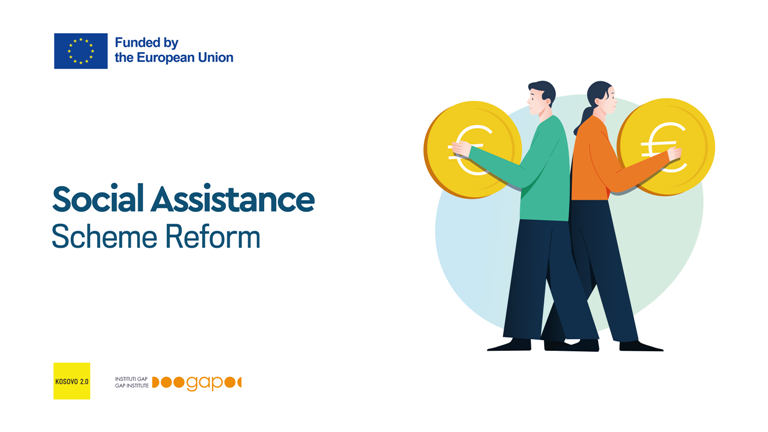 Today, GAP Institute published a new report entitled "Social Assistance Scheme Reform" where the current issues with the Social Assistance Scheme where analyzed, the background of efforts to reform the scheme, the financial agreement between the Ministry of Finance, Labor and Transfers (MFLT) and World Bank (WB), as well as the omissions in the financial impact assessment.
The health crisis caused by the Covid-19 pandemic and rising consumer prices have led to an increase of the poverty rate in Kosovo. Issues with the social assistance system were observed long before the pandemic such as: the monthly value of social assistance is not adjusted to the prices, as provided by law, the monthly payment amounts are even lower than the poverty line and the social protection system is characterized by inconsistencies and inequalities between schemes in terms of adequacy of material benefits. Thus, the Government of Kosovo requested a loan from the WB for the SAS reform which includes financial support from the World Bank (WB) of EUR 47 million, provided in the form of a low-interest loan with a repayment period of 30 years. According to estimates, by 2051, Kosovo must return 8.8 million euros in interest, or a total of 55.8 million euros.
Through this project, WB supports the Government of Kosovo in (a) reforming the Social Assistance Scheme; (b) investments in the social assistance distribution system; and (c) increasing the amount of social assistance to mitigate the effects of the Covid-19 pandemic. However, the loan also includes social transfers (around 43 million euros) to beneficiary households, which fact led to the failure of the Assembly of Kosovo to ratify the agreement, twice.
GAP Institute estimates that obtaining a loan of around EUR 47 million to pay for part of transfers to households under the Scheme is financially unnecessary and may serve as a negative future precedent. Therefore, GAP Institute recommends that the government should give up on insisting to ratify the loan agreement with WB or modify the agreement by receiving a loan and expertise only for technical assistance, directly related with reforms, rather than social transfers. Conversely, it could translate into a harmful practice in the future, given the budgetary pressures as a result of budget increases for social schemes and demands for higher wages.
Please find the full Report by clicking here.
The analysis in Serbian language is available in printed form.
The EU funded project "Innovation for resilient media and citizen engagement" is implemented by: Kosovo 2.0 and GAP Institute.
This publication was produced with the financial support of the European Union. Its contents are the sole responsibility of GAP Institute and Kosovo 2.0 and do not necessarily reflect the views of the European Union.
#gapinstitute #k2.0 #eu