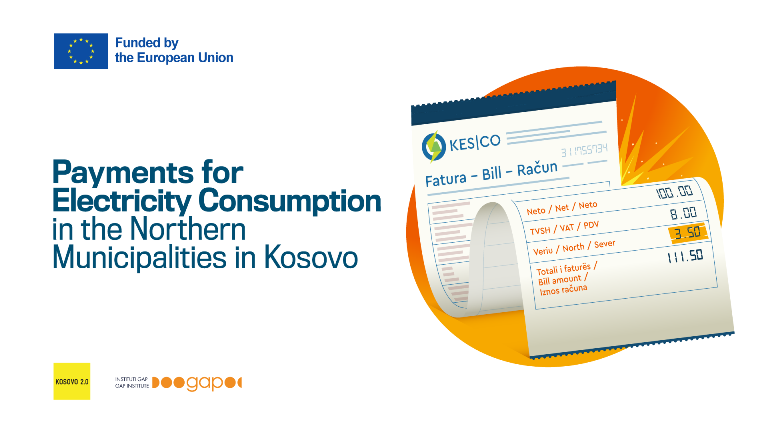 Today, GAP Institute published a new report entitled "Payments for Electricity Consumption in the Northern Municipalities in Kosovo."
The issue of electricity consumed in the northern municipalities of Kosovo has been outstanding from 1999 to June 2022. This happened because, for political reasons, the Kosovo Electricity Distribution Company (KEDS) did not operate in these areas, and consequently could not collect revenues through customer billing. For this reason, from 1999 to 2017, the costs of such expenditures were designated as "energy losses" and were consequently billed to consumers in other cities of Kosovo. It is estimated that the utility bills of citizens in this period were about 3.5% more expensive.
After this period, when the Court of Appeals ruled to discontinue this practice, these costs were covered by the Kosovo Transmission System Operator (KOSTT) and with financial assistance by Government subvention. On average, the cost of energy consumed to cover these expenditures, for a period of ten years, is EUR 11 million per year, while in total, there were EUR 132.5 million spent. By 2018, this cost was under EUR 10 million; while since 2018, it has picked up, reaching the highest value in 2021, in the amount of about EUR 38 million.
In an effort to resolve this political issue, in 2013, the Energy Agreement was signed in Brussels between Kosovo and Serbia, followed by an agreement to implement the first agreement in 2015. However, none of these were implemented until a new agreement was reached on June 21 this year, where Serbia and Kosovo agreed to approve a roadmap for implementing the energy agreements reached in 2013 and 2015.In which case, on June 24, 2022, the Energy Regulatory Office (ERO) issued the license to the company "Elektrosever"; which will buy and sell electricity to serve the customers in the northern municipalities.
In case of implementation of this agreement, the citizens in the northern municipalities will be billed and will pay for their own electricity consumption. Therefore, a recommendation from the GAP Institute is to ensure an adequate and timely implementation of this agreement from all parties involved.
Please find the full Report by clicking here.
The analysis in Serbian language is available in printed form.
The EU funded project "Innovation for resilient media and citizen engagement" is implemented by: Kosovo 2.0 and GAP Institute.
This publication was produced with the financial support of the European Union. Its contents are the sole responsibility of GAP Institute and Kosovo 2.0 and do not necessarily reflect the views of the European Union.
#gapinstitute #k2.0 #eu