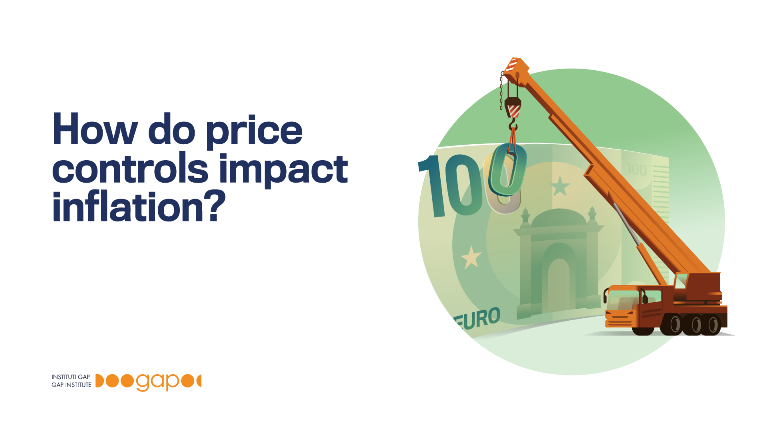 Today, GAP Institute published the report "How do price controls impact inflation"?
The significant increase in prices is weighing down on the well-being of families in Kosovo. In the coming months, the supply of electricity will be challenging for Kosovo, taking into account the insufficient generation capacities of Kosovo and the high import prices.
Through this paper, GAP Institute analyzed the downsides and advantages of the practice of price caps, specifically the effects of oil price regulation in Kosovo, the interventions of the Government of Kosovo thus far to combat inflation and the impact of the possible change of some tax rates. Recently, the Government proposed a Draft Law on temporary measures on essential products in special cases of market destabilization, by which it intends to regulate the prices of other products in the basic food basket.
The findings of this report show that during the time of fuel price caps, a more synchronized price fluctuation is observed in retail fuels in Kosovo, and in the stock market. Meanwhile, in periods of unregulated fuel prices, one may observe an immediate tendency of fuel importing companies to increase profit margins and delay synchronization with the stock market prices.
If the inflation issue turns into a long-term problem, the price capping policy may harm the affected sectors, as suggested by findings from other countries implementing similar measures. With the Law adopted by the Assembly, sectors that have a combined turnover of over 1.1 billion Euro in 2021, or about 15% of GDP for that year, shall be affected. Practices of other countries show that price capping as an instrument to reduce inflation is ineffective, prices tend to rise promptly as soon as such caps are removed.
The application of other forms of assistance to citizens, which mainly envisage the lowering of tax rates or the VAT and excise tax exemption for some products, may bear a budget impact ranging between 205 and 246 million Euro in six months, or roughly 455 million Euro per year. Inadequate targeting remains one of the main issues resulting from such policies, as well as an artificial increase in consumption.
In addition to the Governments current measures GAP Institute recommends to adopt the new minimum wage rate, which would affect approximately 106,000 private sector employees. At the same time, the Government should:
- Design and implement sustainable policies to increase domestic manufacturing in order to reduce dependence on import;
- Take decisions to save electricity in the private sector as well, continue to allocate funds for initiatives that support the improved efficiency in energy consumption in homes;
- Consider tax relief in gas and pellet, the prices of which are expected to be controlled with the new law, and
- Approve and implement the new Energy Strategy 2022-2031.
The full report can be found here.