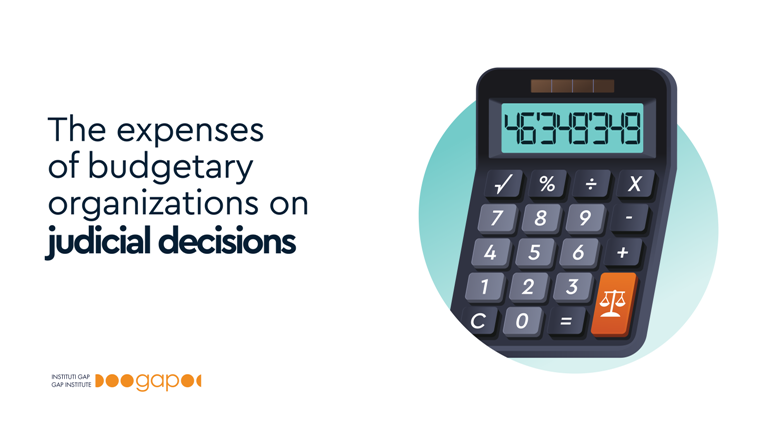 Today, GAP Institute published the memo "Expenses of budgetary organizations for judicial decisions". GAP Institute, through this policy memo, has reflected the expenses of budgetary organizations for court decisions, as well as the issues and reasons that cause these expenses in recent years.
Public institutions in Kosovo have paid a significantly increased cost for judicial and enforcement decisions over the years. Based on the decisions of the courts for 2022, the Treasury of Kosovo has paid an amount of 46.3 million euros, by charging budgetary organizations. Compared to the previous year (2021), payments have decreased by 5.6 million euros or (-11%) in 20221 . However, the number of lawsuits filed against public institutions in 2022 cost 347 million euros or 110 million more than in 2021. In the period 2017-2022, budgetary organizations have paid approximately 31 million euros per year for judicial and enforcement decisions. In the last six years, close to 186 million euros were spent in total towards payments based on court decisions.
Payments for judicial and enforcement decisions mostly occurred in the category of capital investments, including compensations for land expropriations and payment delays. However, an increase in payments is also observed in the "salary and allowances" category, mainly due to the jubilee salaries that originate from the collective contracts of education and health workers. The funds allocated to the current reserve turn out to be insufficient to cover the payments for judicial and enforcement decisions. Improper representation by legal representatives of public institutions also has an impact on the high value of payments for judicial and enforcement decisions. In some cases, the representatives of public institutions from the State Advocacy did not participate in court hearings at all, thus not protecting the interest of public institutions.
Judicial and enforcement decisions may cause numerous damages to the budget of institutions. Besides interest expenses that institutions are obliged to pay, various planned projects become either impossible to implement or delayed; new projects risk failure; and damage may be caused to the responsible economic operators, etc.
To read the full report click here.