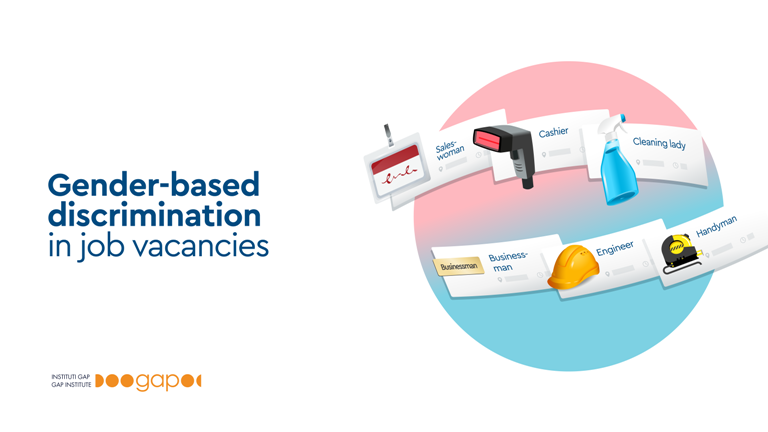 Today GAP Institute published the report "Gender – based discrimination in job vacancies".
This report demonstrates how gender-based discrimination is present in public job vacancies in Kosovo, analyzing 6,225 job vacancies published on one of the largest online employment platforms during 2022, and another 1,357 job vacancies published on the "Superpuna" platform, which was launched by the Ministry of Finance, Labor and Transfers in February 2023.
Gender-based discrimination in job titles and job descriptions occurs when job advertisements contain sentences and expressions which suggest a preference for one gender, or reflect cultural stereotypes regarding men and women in the workplace. Such job descriptions, in addition to leading to discriminatory practices, depriving one or the other gender of the right to apply, are also prohibited by law in Kosovo.
Based on an analysis of 6,225 titles published on the online employment platform during the year 2022, 59% contain gender stereotypes, of which 73% are written in masculine-coded language and 27% are in feminine-coded language. Whereas, of the 1,357 titles published on the "Superpuna" platform, 79% contain gender-coded stereotypes: 74% are male-coded stereotypes and 26% are female-coded.
As for the "Superpuna" platform, the average salary for jobs which contain male-coded stereotypes is 391,5 euros and for female-coded stereotypes is 336,3 euros. And 412,6 euros is the average salary for jobs with no gender-coded stereotypes. This once again proves the presence of the gender pay gap.
Sectors which employ more women are: administration, education and health, and those which employ more men are: trade and economy, electronics and energy, research and development, engineering and construction, maintenance and insurance.
To read the full report click here.