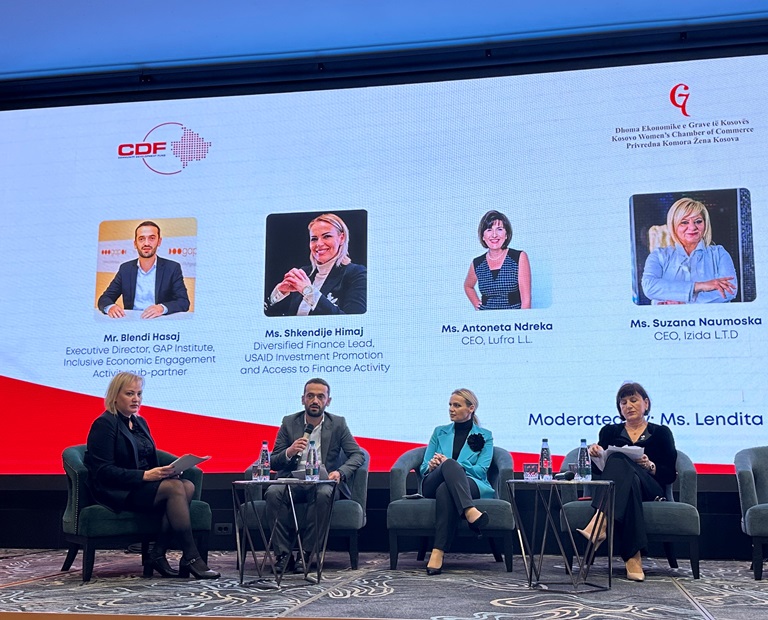 Today, GAP Institute published the research report on "The quest for financial equity: Access to finance for women and ethnic minority-owned businesses", supported by USAID through Inclusive Economic Engagement Activity, a partnership with CDF. Findings of the report were presented in the Regional Women Entrepreneurs Conference "Empowering Women Entrepreneurs: Building Bridges, Breaking Barriers".
This report aims to provide an insight on the obstacles faced by micro, small, and medium-sized enterprises in Kosovo in access to finance, with a specific focus on those owned by women and ethnic minorities. The findings reveal a concerning lack of representation among women and ethnic minority communities in business ownership, indicating the urgent need for targeted interventions (such as affirmative measures) to address these disparities.
Women in Kosovo own only 15% of private properties, compared to 74% owned by men. The remaining 11% of properties are owned by legal persons/entities. Low property ownership creates various economic and social problems for women, such as not having sufficient collateral for loans.
About 16% of the total number of business bank accounts in Kosovo are owned by women, 82% are owned by men, and 2% are registered in the name of both women and men. Women-owned businesses in Kosovo own 2.4 times less loans than those men-owned. Specifically, the amount of active debt for women-owned businesses is 642.6 million euros, while for men it is 1.6 billion euros. Moreover, women-owned businesses own 14.2 times less deposits than men, accounting to only 111.9 million euros compared to men-owned businesses owning 1.58 billion euros in deposits.
Similarly, women own 2.42 times less deposits than men on their individual bank accounts. The amount of deposits owned by women is 829.5 million euros, and the amount owned by men is 2.01 billion euros.
In the last six years (2016-2022), this institution has been able to help guarantee 12,653 loans, out of which 1,725 (14%) are for women-owned businesses. Total loan amount that KCFG has partially guaranteed from 2016 to 2022 for women-owned businesses is 63.3 million euros whereas for men-owned businesses is 458.9 million euros. Although KCGF has contributed immensely towards women's financial literacy and access to finance, by offering guarantees to overcome the challenge of collateral requirements, there is much work to be done by policymakers.
Thus, GAP recommends to the policymakers, financial institutions, and other stakeholders to promote financial literacy and inclusion for women by providing targeted funding and investment programs, and creating mentorship and networking opportunities. This can be done by undertaking awareness campaigns to educate women and other marginalized groups on their rights to land and property ownership, and disseminating information about legal frameworks, inheritance rights, and property registration processes.
You can read the full report by clicking HERE.