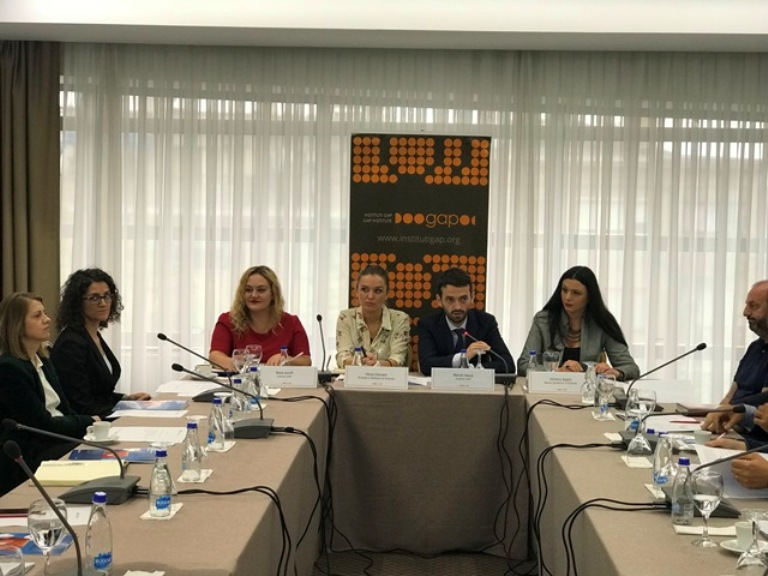 Today, GAP Institute organized a roundtable discussion, launching the report "Consumer Protection in the Banking Sector".
At the opening of the discussion, Blendi Hasaj, researcher in GAP Institute, stated that the roundtable will address a specific part of the consumer protection law, namely the section on consumer credit agreements. He also highlighted the role of the GAP Institute in the past in filling the information gap that citizens faced regarding the lack of the effective interest rates in bank pricing lists.
Nora Jusufi, researcher in GAP Institute, stated that the report examines the new law on consumer protection, in the section on credit agreements, contents of bank pricing information, role of the Central Bank of Kosovo (CBK) on consumer protection, and relevant legal obligations. One of the key findings was that the new consumer protection law envisages the development of a standard form for pre-contractual information, which should contain all credit contract details including an example of the effective interest rate calculation, as foreseen in the relevant regulation since 2013. In addition, the law specifies the term for early credit repayment, reduced fees in cases of early credit payment, and envisages credit assessments based on the Kosovo credit registry information, inter alia.
In turn, Vlora Osmani, Chair of the Legal Committee of the Kosovo Banking Association, highlighted the commitment of the association during the drafting process of the new law on consumer protection. She also stated that commercial banks in Kosovo comply fully with the law in question.
Whereas Venera Agani, Director of the Appeals Division at CBK, spoke about the efforts of this division in dealing with citizens' complaints regarding banking services, the role of CBK in financial education of citizens, and CBK's work in monitoring commercial banks in terms of how they handle customer complaints.
Participants from the Kosovo Chamber of Commerce, members of the Consumer Protection Council and bank representatives also attended the roundtable.
To read the full report please click Here.