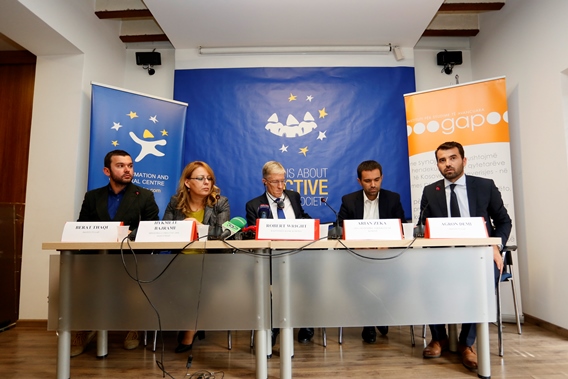 GAP Institute organized a panel discussion on the topic of Kosovo Credit Guarantee Fund: How it would affect the interest rates?
On June 17, 2015 the Government of Kosovo has approved the concept document for the Kosovo Credit Guarantee Fund (KCGF). Two months later, the Government approved the Draft Law on KCGF. GAP Institute has published an analysis entitled "Kosovo Credit Guarantee Fund: Models of Management and Effectiveness". This analysis assessed the potential of this fund to positively impact Kosovo's economy, more specifically in credit growth and lower interest rates for small and medium enterprises.
Berat Thaqi, a researcher at the GAP Institute, during the presentation of the analysis pointed out that in order for the KCGF to function, the government should also improve the enforcement of contracts and reduce informality. Regarding the effect on the credit growth for businesses, based on the size of KCGF and the experience with the Credit Authority Development (CAD), this fund is not expected to have significant impact; however it is a positive step towards improving the access to finance for businesses.
Minister of Trade and Industry (MTI), Hykmete Bajrami presented the functioning of the Fund as it is provided in the draft law on Kosovo Credit Guarantee Fund and the concept document that was released by the MTI. The Minister pointed out that this fund will operate almost analogous to the Kosovo Fund for Deposit Insurance (KFDI), since it will be autonomous and independent of the government and will be under the supervision of the Central Bank of Kosovo. Regarding the financing of the fund, initially international donors such as USAID, SECO, KfW, have donated 18 million euros, while MTI has donated 1 million euros. Ms. Bajrami explained that there was no interest from banks to join the fund as shareholders because of that would inflict a conflict of interest.
Chairman of the Managing Board of Raiffeisen Bank in Kosovo, Robert Wright, in his presentation focused on the prospect of commercial banks regarding guarantee mechanisms. He mentioned that banks welcome such funds given that for the moment banks have excess liquidity, which could be exploited for loans if they are guaranteed by the KCGF. Also, Mr. Wright pointed out that in the short term, the impact of KCGF in Kosovo"s economy may be small, but in the long run this impact will increase significantly.
Arian Zeka from the American Chamber of Commerce said that businesses welcome the KCGF, given that access to finance is one of their main difficulties.
Click HERE to read the report.