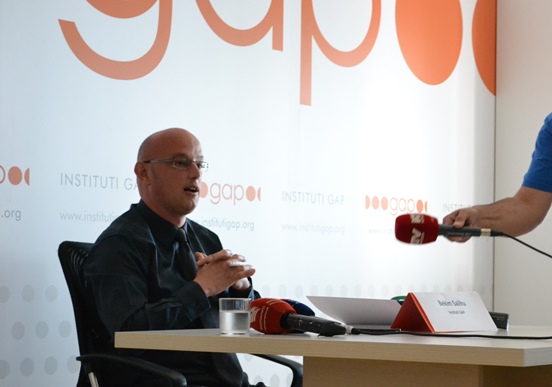 According to the report by GAP, Brussels Agreement of 19th of April, 2013 between Kosovo and Serbia, which refers mainly to the north of Kosovo, has not resulted in dissolution of parallel government structures in Leposavic, Zubin Potok, Zvecan and North Mitrovica.
According to Bekim Salihu, a researcher at GAP and presenter of the report, "Mayors of Leposaviq, Zubin Potok, and Zvecan maintain two positions: they have been elected from local elections in Kosovo and as a result, are paid by Kosovo's budget and at the same time lead the parallel structures, a task mandated to them by the Government of Serbia. These parallel structures in the north are referred to as 'Interim Administrative Bodies". These bodies issue decisions in different sectors such as education, administration, health, urbanization, public services, sports and culture. The mayors elected from local elections in Kosovo reside in the premises of parallel municipalities and refuse to be identified with signs and symbols of the Republic of Kosovo.
Kosovo's Government has not issued any decision regarding dissolution or transformation for the North Mitrovica Administrative Office. This office was foreseen to operate only through to the creation of the Municipality of North Mitrovica. Currently, this office does not have any function, even though 69 individuals remain employed and receive salaries as civil servants.
For 2015, the municipalities in the north have at their disposal 10.8 million Euro from Kosovo's budget. From this amount, over 6.2 million Euro are planned for salary expenditures. In the four municipalities in the north of Kosovo, in local level, 1,730 individuals receive salaries from Kosovo's budget. North Mestrovic has the largest share of employees with 747 individuals employed. Most of the said staff receive double salaries for the same job, both from Kosovo's Government and Serbia's Government.
In addition, a "Development Fund for the North", which is financed by customs revenues in checkpoints 1 and 31 (Bernjak and Jarinje), was established for these municipalities. Since January 2014 until the second half of July 2015, this Fund has gathered 6.5 milion Euro.
Click HERE to read the full report.